Reference:
Ker Than "Did Earth once have multiple moons?" With thanks to Lee
Cold Brown Dwarf Discovery
Now this is what I'm talking about! Here's an image of what is a rather red 'brown dwarf', which is very cold indeed by stellar standards. It would approximate a Nemesis-style object in our own solar system back yard. Here's the press release:
"An international team of astronomers has discovered the coldest brown dwarf star ever observed. This finding, to be published in Astronomy & Astrophysics, is a new step toward filling the gap between stars and planets.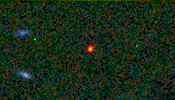 "An international team [1] led by French and Canadian astronomers has just discovered the coldest brown dwarf ever observed. Their results will soon be published in Astronomy & Astrophysics. This new finding was made possible by the performance of telescopes worldwide [2]: Canada France Hawaii Telescope (CFHT) and Gemini North Telescope, both located in Hawaii, and the ESO/NTT located in Chile.

"The brown dwarf is named CFBDS J005910.83-011401.3 (it will be called CFBDS0059 in the following). Its temperature is about 350°C and its mass about 15-30 times the mass of Jupiter, the largest planet of our solar system [3]. Located about 40 light years from our solar system, it is an isolated object, meaning that it doesn't orbit another star.

"Brown dwarfs are intermediate bodies between stars and giant planets (like Jupiter). The mass of brown dwarfs is usually less than 70 Jupiter masses. Because of their low mass, their central temperature is not high enough to maintain thermonuclear fusion reactions over a long time. In contrast to a star like our Sun, which spends most of its lifetime burning hydrogen, hence keeping a constant internal temperature, a brown dwarf spends its lifetime getting colder and colder after its formation.

"The first brown dwarfs were detected in 1995. Since then, this type of stellar object has been found to share common properties with giant planets, even though differences remain. For example, clouds of dust and aerosols, as well as large amounts of methane, were detected in their atmosphere (for the coldest ones), just as in the atmosphere of Jupiter and Saturn. However, there were still two major differences. In the brown dwarf atmospheres, water is always in gaseous state, while it condenses into water ice in giant planets; and ammonia has never been detected in the brown dwarf near-infrared spectra, while it is a major component of Jupiter's atmosphere. CFBDS0059, the newly-discovered brown dwarf, looks much more like a giant planet than the known classes of brown dwarfs, both because of its low temperature and because of the presence of ammonia.

"To date, two classes of brown dwarfs have been known: the L dwarfs (temperature of 1200-2000°C), which have clouds of dust and aerosols in their high atmosphere; and the T dwarfs (temperature lower than 1200°C), which have a very different spectrum because of methane forming in their atmospheres. Because it contains ammonia and has a much lower temperature than do L and T dwarfs, CFBDS0059 might be the prototype of a new class of brown dwarfs to be called the Y dwarfs. This new class would then become the missing link in the sequence from the hottest stars to giant planets of less than -100°C, by filling the gap now left in the midrange."

Reference:
A & A Press Release, 10th April 2008, with thanks to David and Bruce
Meteorite from the Past
It seems remarkable, but this little piece of rock might be sufficient for planetary scientists to piece together a picture of what a long-gone planet in the solar system may have once looked like. The meteorite (which is one of a pair) was discovered in Antarctica, where many impacted meteorites can be found sitting on the glistening white surface of that frozen continent. But it not recognisable as a fragment of any of the known planets, or from our Moon. It is an unknown.
The likelihood is that it is one of many fragments of a disintegrated dwarf planet from the early solar system. The solar system may be full of such fragments. Each retains the memory of a world which once existed, but is no longer. Most of these worlds suffered great impacts, and many were undoubtedly lost from the Sun's great gravitational grip.
What interests me about this is whether this fragment might have once had a closer connection with Earth. It is clearly neither Terrestrial, nor Lunar. But it may have been part of the object which collided with the Earth billions of years ago; the object which caused the ejection of a massive quantity of terrestrial material into orbit, which eventually coalesced to become the Moon. That impactor is presumed to have been Mars-sized. Is it possible that this meteoritic fragment was once part of that world?
Scientists have concluded already that this fragment was once part of a dwarf planet, and also that water was present on that world in sizeable quantities. At the moment, there seems little else to go on, but in time this fragment may hold a clue to the mighty collisions that once shaped the solar system, and, indeed, our own world.
Reference:
David Shiga "Meteorites may be remnants of destroyed dwarf planet" 13th March 2008, with thanks to Shad Bolling
Pioneer Anomaly Deepens
Readers of my book will be acquainted with the mysterious physical effect experienced by several spacecraft in the solar system. The effect has been most noticeable in the case of two Pioneer probes which have been heading away from the Sun at great speed. Quick, yes, but apparently not quick enough. Some effect unknown to the current laws of physics appears to be slowing the craft from their calculated trajectories.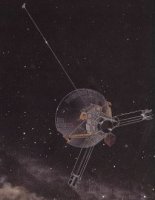 Scientists have been looking at this problem for quite a number of years now, and it is a well-known mystery in the astrophysics community. No one has done more work on this than the now retired scientist John Anderson, ex-JPL. John has always had an interest in the question of Planet X, although it appears that he doesn't think that will provide the solution in this case. He has now announced that careful measurements of several other spacecraft moving around in the solar system have provided more evidence of this effect (1). Do the books on gravitational physics need to be revised?
I'm not going to say here that the proposed Dark Star can definitively offer an answer to this problem. But, I do think that it might be a factor, and that if it is, then the problem may be resolvable without the need to change the laws of physics.
Let's say that the Dark Star is about 10 Jupiter masses. In that case, it has about 1% of the mass of the Sun. The rest of the planets are of negligible mass in comparison, including Jupiter. When you count in the Dark Star, then the total mass of the solar system is 1% greater than we currently account for. Not only that, but the total angular momentum of the solar system is significantly higher than what we currently allow for, as well as the total orbital energies of the planets. All of which means that the solar system's various fields, whether energetic, gravitational, or even magnetic, are all slightly askew from what is currently imagined. Surely, somewhere in the maths, that has to count?
If space-probes are moving differently to expected by a small margin, then it seems plausible to me that the additional mass, energy and momentum of the complete solar system, when factoring in a Dark Star at its periphery, may be the reason. The problem then is that the complexities of the system as a whole are such that unravelling such an interaction may prove more difficult than re-writing the laws of physics.
Reference:
(1) Charles Q. Choi "NASA Baffled by Unexplained Force Acting on Space Probes" 29th February 2008, with thanks to Lee Covino
Japanese Progress on Planet X
Talk of the existence of Planet X often receives short shrift in the West. I'm not sure why that is, because the vast majority of the total solar system (Including the comet clouds) is dark and uncharted. That isn't to say that we should mark territory beyond Neptune as 'Here be Dragons', but we should at least respect the fact that we really don't have a clue what's out there.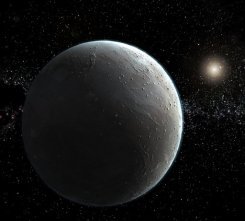 The Japanese, who are famously known for the inventive thinking, appear to be less discouraged. University researchers have declared an interest in finding Planet X, and they are quite certain that this Holy Grail of outer solar system research exists. Why? Because their theoretical models indicate that there is indeed a large piece of missing celestial jigsaw. This is from physorg.com:

"Researchers at Kobe University in western Japan said calculations using computer simulations led them to conclude it was only a matter of time before the mysterious "Planet X" was found. Because of the very cold temperature, its surface would be covered with ice, icy ammonia and methane," Kobe University professor Tadashi Mukai, the lead researcher, told AFP. The study by Mukai and researcher Patryk Lykawka will be published in the April issue of the US-based Astronomical Journal. The researchers set up a theoretical model looking at how the remote area of the solar system would have evolved over the past four billion years.

"In coming up with an explanation for the celestial bodies, we thought it would be most natural to assume the existence of a yet unknown planet," Mukai said.

"Based on our hypothesis, we calculated how debris moved over the past four billion years. The result matched the actual movement of the celestial bodies we can observe now," he said. He was hopeful about research by Kobe University, the University of Hawaii and Taiwan's National Central University. "We are expecting that the ongoing joint celestial observation project will eventually discover Planet X," Mukai said." (1)

I'm not sure whether it's too clever to provide the kind of accurate predictions for the orbital path of this Planet X body that the Japanese reseachers imply, however. This was from japantoday.com:

"According to the research conducted by Mukai and Patryk Lykawka, the planet is about 30-70 percent of Earth's mass and located more than 12 billion kilometers from Earth. It apparently tilts about 20-40 degrees to the plane of orbit and circles the sun in an elliptical orbit every thousand years." (2)

Fans of Zecharia Sitchin will note the tilt figure, which compares favourably with his own prediction of 30 degrees. But the size, orbital period and distance are variables which could easily be adjusted dramatically, and still fit the data. For instance, if you increase the mass of the planet, then it could achieve the same effect on the outer solar system by simply being located at a greater distance. There would be a scale of possibilities, with size of the planet X body growing proportionally with its distance from the Sun, and therefore also growing with its orbital period. So, I wouldn't read too much into these speculative figures. All we can say is that as the projected body becomes more distant, it must become bigger. The hunt is on!

References:
(1) "Japanese scientists eye new planet" 28 Feb 2008, with thanks to Wayne
(2) "Another planet may be beyond Neptune: researchers" 28 Feb 2008, with thanks to Lee Covino
Stardust Mission Surprise Results
The results of the Stardust Mission have been released at last. The component molecules of the Wild-2 comet have surprised scientists, who expected this object to have been a leftover from the beginning of the solar system. Instead, its nature is more akin to the asteroids between Mars and Jupiter. This indicates to me that some of the cosmic matter beyond the planets (i.e. the comets) arrived there as a result of catastrophic events in the early solar system. That it is, in actual fact, the debris leftover from great collisions in the inner solar system.
This is more in keeping with the theories of Zecharia Sitchin than the expected outcome of mainstream theories of the origin of the solar system. This result seems to indicate that cometary bodies in the outer solar system might have originated near the asteroid belt. This is the situation that Sitchin's 'Celestial Battle' between Tiamat and Marduk was said to create; the collision between a rogue planet moving in an elliptical orbit, with a large planet once located between Mars and Jupiter, created the asteroid belt, the Earth and comets. Remarkably, this strange cosmic theory, which is based upon the readings of ancient mythology, may once again have a ring of truth in science.
Here's the result summary, which, incidentally, has been a long time in coming:
"Tiny samples of a glowing comet, flown back to Earth by a pioneering spacecraft named Stardust, hold remarkably little dust from any ancient far-off stars, but a lot of the stuff that makes up nearby rocky asteroids, Livermore scientists have found to their surprise.

The Stardust mission was the first in space history to snatch material from a distant comet in orbit around the sun, and researchers all over the world had expected the microscopic cometary grains to be older than the sun itself - material from a time billions of years ago when the solar system was merely a cloud of dust and gas swirling around a "proto sun."

Instead, a team of analysts at the Lawrence Livermore National Laboratory has discovered that thousands of the comet's grains are actually bits of the same silicate rocks found in meteorites that fall to Earth from the asteroid belt between Earth and Mars. The Livermore team's two leaders, materials scientist Hope Ishii and astrophysicist John Bradley, discussed their findings with reporters Thursday. Their full report is being published Friday in the journal Science.

Stardust was launched from Earth nine years ago on its journey of 3 billion miles. It circled the sun three times before it reached its target - a comet named Wild-2 - and grabbed samples of the comet's dusty material in a filmy trap called an aerogel four years ago. The spacecraft finally returned to Earth two years ago and jettisoned its precious cargo by parachute over the Utah desert. Since then, nearly 200 scientists at more than 75 institutions have been analyzing the particles from the comet, and the Livermore team is one.

Curiously, Ishii said, the comet's dust does not include many of the metals that scientists had expected to find in an object that must have been formed long ago close to the solar system and later was flung far out into a region called the Kuiper Belt. Most scientists, she said, had expected to find a treasure trove of the solar system's most primitive material, but it's not there in comet Wild-2.

To Bradley, the fact that few of the particles the team analyzed appear to date from the solar system's earliest formation is "somewhat disappointing," but to scientists, he said, "a dose of cold reality is a good thing." It means, he said, that they must now try to understand why this comet - and perhaps many others - hold so little primitive material that formed close to the young sun, and so much that makes up what are known as chondritic matter found in meteorites from the asteroid belt.""
Reference:
David Perlman "RESULTS OF THE STARDUST MISSION: Bits of comet surprise scientists" 25 January 2008, article on longer available online