Xena (Eris) and other Extraordinary KBOs
The planet, officially designated 2003 UB313, was found by Dr Mike Brown and colleagues using the Samuel Oschin Telescope at Palomar Observatory near San Diego. It is currently about 97 times farther from the Sun than Earth, or 97 Astronomical Units, and is at least as large as Pluto (3). It is the most distant object ever to be directly located in the solar system. You can appreciate the approximate distances involved from the artistic image I have created above (5). All of the other Kuiper Belt Objects discovered so far have been found within 50 AU, although some of these have eccentric orbits which take them way beyond that distance.

The new tenth planet has not yet been given a name, but a suggestion has been put forward by Mike Brown to the official body sanctioned with making the historic decision of naming the tenth planet (4). Dr Mike Brown would like the planet to be called 'Xena', after the fictional warrior princess played by the TV actress Lucy Lawless (2). I would have thought something like 'Vulcan' would be more appropriate for this object, although it appears that the astronomical use of this Roman God of Fire has been reserved exclusively for a planet within Mercury's orbit!
[Update: Xena was officially named 'Eris' in 2006 by the IAU].
One researcher with a particular interest in a distant tenth planet going by the name 'Vulcan' is Barry Warmkessel. Vulcan's existence is tied in with writings by Theosophists like Madame Blavatsky. Barry Warmkessel suggests that the steeply inclined orbital path of 'Xena' can be explained by the presence of an as yet undiscovered planet the the general vicinity of this new planet. Vulcan, he suggests, has an inclination in the region of about 50 degrees, and its presence far off the ecliptic would help to explain two things; how many of the Edgeworth-Kuiper Belt objects have anomalous orbits, and why this sizeable planet has so far escaped detection.
Saying that, Barry is quite convinced that Vulcan has already been discovered, citing the lengthy passage of time taken for information about these newly discovered minor worlds to be released to the public (8). Might astronomers be keeping information about a 'real' tenth planet secret right now?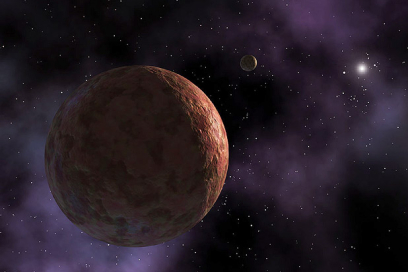 Such considerations are actually far from fanciful, but the issue is admittedly a rather complex one. Whilst the Edgeworth-Kuiper Belt is essentially a flat disc of objects beyond Neptune, many of them vary in inclination: Pluto is an obvious example. The early conditions of the Solar System are still shrouded in mystery, to a certain extent, with many new theories about planetary interaction and migration emerging all the time to explain various anomalies. The existence of one or more major planets beyond Neptune is one such theory among many. Other theories include external gravitational influences, like passing stars or Gigantic Molecular Clouds in interstellar space. So we cannot state with total confidence that anomalous orbits have to be related to larger bodies yet to be discovered, although this theory is certainly one of the best available!
Releasing information about the discovery of new EKBOs is also fraught with difficulties. Spotting new dots of light on CCD camera images, and capturing enough data to actually specify orbits and sizes of new objects are two entirely separate things. So an object might be initially classified in 2003, but it may take a couple of years of painstaking work to establish enough factual data to allow other scientists, and the general public, to recognise this object as a new planet. Scientists who rush this kind of process are liable to find egg on their faces. So they must shroud their on-going work in secrecy to prevent other workers from stealing their discoveries while they work to confirm them properly. As it turns out, this is pretty much what happened in the case of Xena, as I will discuss in a moment!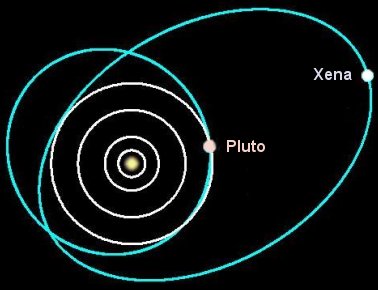 The name eventually attributed to 2003 UB313 ill depend upon whether it is actually classified as a major or minor planet. Given that it is larger than Pluto, that should be incontrovertible. Pluto, after all, doggedly remains a 'major planet'. However, this discovery may be the first among many. If every round chunk of rock and ice larger than Pluto in the Edgeworth-Kuiper Belt were to be classified as a major planet, then one could imagine a situation where the science books need to list literally dozens of planets in the solar system in a just few years time!
Indications of the orbit of 'Xena' are not entirely clear at this stage, nor even its size, which is probably between 2200 and 3000km in diameter (1). Dr Brown says that the planet's perihelion is about 38 Astronomical Units, and its perihelion is 97 AU, which presumably means that it currently lies at or near its furthest point from the Sun. This makes its orbit quite eccentric, bringing it close to Pluto for much of the time.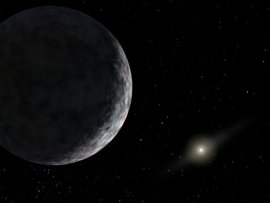 For those interested in the more esoteric aspects of Planet X research, it is important to state that this is not Nibiru. The planet is a rocky, icy world similar to Pluto, and it is certainly not a big player in the evolution of the Solar System! Instead, it is one of many such worlds lying in the Edgeworth-Kuiper Belt, albeit being a particularly large example.
Xena currently lies in the middle of the constellation of Cetus and has a highly inclined orbit:
"The object, designated 2003 UB313 ... is a scattered-disk object, meaning that at some point in its history Neptune probably flung it into its highly inclined (44°) orbit. It's currently glowing at magnitude 18.9 in the constellation Cetus. Its high inclination is the only reason it wasn't discovered years ago; no one was looking for planets so far from the plane of the solar system." (6)
Xena appears to share many characteristics with Pluto. It has a highly reflective surface, which may indicate a layer of ice. This contrasts with Sedna, and some of the other outer planetary bodies, which has reddish surfaces. I wonder whether these two diverse sets of minor planetary bodies (some white, some red) may tell us something about their origins? It has been speculated that the reddish appearance of Sedna may have resulted from collisional activity early in the life of the Solar System, or even that Sedna is a captured object. Whatever the truth of this, Xena does not appear to have the same controversial surface characteristics, despite its eccentric orbit. Mike Brown writes:
"Pluto and the new planet are not completely identical, however. While Pluto's surface is moderately red, the new planet appears almost grey. We are only now beginning to try to understand why the colours differ so." (4)
My opinion on this is that the reddish coloured minor planets of the Edgeworth-Kuiper Belt have been affected more or less directly by the Dark Star at some point. Some of them may even have resonant orbits with it. The whiter planetoids escaped whatever interaction took place to create this effect early in the life of the Solar System.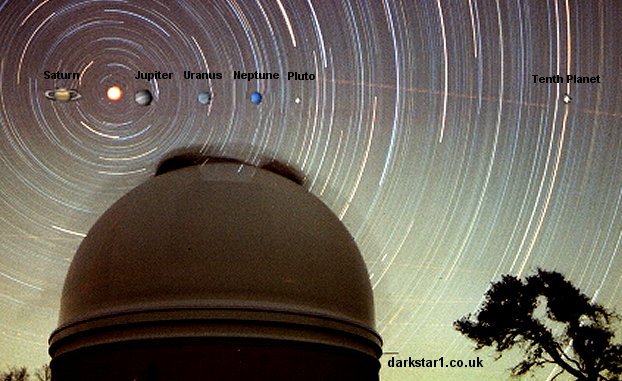 Xena's discovery was made on 8th January 2005, but was kept secret whilst astronomers attempted to confirm the finding with other telescopes, and to give time for an official name to be given to it. However, technical information about 'Xena' was being held on telescope databases used by Dr Brown's team. This 'secure' data was actually available over the internet and someone with an astronomical background had accessed this information clandestinely. This forced the team to release the news in a hasty manner (2).
Without an official name, the impact of this story amongst the public, and mainstream media, has been somewhat muted. This is a shame, particularly for Mike Brown's pioneering team. However, if the new planet (which I can't imagine for 5 minutes will actually end up being called 'Xena' officially!) is classified as a major planet, then Dr Brown's place in history books is assured.
This announcement came on the same day as release of the news that a minor planetary body larger than Sedna was discovered by a group led by Jose-Luis Ortiz, of the Sierra Nevada Observatory in Spain. This object, whose angle of inclination to the ecliptic is also significant, has the official designation 2003 EL61. (7)
Astronomers who, only a few years ago, were arguing adamantly that there would be no tenth planet to be found have been proven wrong! There is a lot of undiscovered territory out there, with many more discoveries to be made. I am quite convinced that one of those discoveries will be an actual binary companion to the Sun, which I call the Dark Star, in the form of a sub-brown dwarf. It is likely to be 5-10 times as far away as this new planet. As interest in outer solar system increases among astronomers, the probability of a discovery in the near future must be steadily improving.
I explain all about this in my new book, "The Dark Star" (published 2005). I will also devote a complete web-page to this planet once an official name has been designated. Time has been allotted for the Hubble Space Telescope to take a closer look at Xena, so hopefully a more detailed picture will emerge regarding its exact size and surface conditions.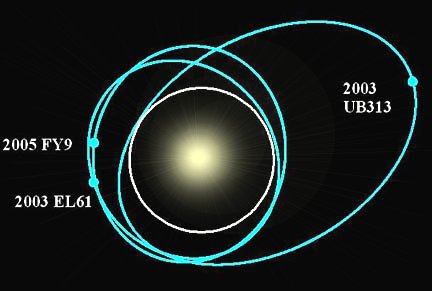 If the name 'Xena' stood little or no chance of being recognised officially by the International Astronomical Union, then the latest nicknames to be applied to newly discovered 'mini-planets' are entirely doomed to failure (9). Mike Brown's team have announced the discovery of two more objects of Pluto-sized proportions. Both of them are located at high angles to the ecliptic, although they reside within the Edgeworth-Kuiper Belt at about 52AU.
They have been given nicknames to mark the times of their discoveries; Santa and the Easterbunny! Santa (2003 EL61), an elongated object about the size of Pluto, even has a little moon, called Rudolph (10).
Easterbunny (2005 FY9) exhibits a surface of frozen methane ice, similar to Pluto, Sedna and Xena. There seems to be a pattern emerging, then, with this set of Pluto-sized objects. Perhaps this suggests a common origin for these particularly large Edgeworth-Kuiper Belt objects, with their uncommonly inclined orbits. Dr Brown suspects that they formed closer to the Sun and were flung into the Edgeworth-Kuiper Belt by gravitational interactions with the giant planets (10). But he has no idea why they are all covered in methane, or why methane should be showing up so much in the Solar System in general (11).
The dwarf planet formerly known as 2005 FY9, or "Easterbunny", was given the name 'Makemake' by the International Astronomical Union in July 2008.
The red methane-covered dwarf planet orbits beyond Neptune, and has been designated the third plutoid in the solar system. It is named after a Polynesian creator of humanity and god of fertility. This artist's illustration shows the dwarf planet as it is believed to look:
Other objects have been discovered which show one or two of these characteristics. Sedna, for instance, had a very distance orbit which is entirely removed from the influence of Neptune. What is remarkable, and perhaps more difficult to explain, about Buffy is that it shows all three of these attributes. That shouldn't have happened, at least according to theory.
Orbits of such objects can expand, and become tilted, through the repeated influence of Neptune's resonances. (Many of the objects in the outer solar system are held in these resonant orbits by Neptune). But the influence seems too small to have created such a distant orbit as Buffy's. Furthermore, this influence tends to elongate the orbits of the Edgeworth-Kuiper Belt Objects. Buffy's orbit is too circular to fit into this theoretical picture:
The last few years have produced more questions than answers about the Edgeworth-Kuiper Belt. I suspect that the study of the Belt is a bit like watching a juggler at work, and realising that some of the balls are moving around without ever touching his hands! Something seems to be creating an invisible influence, or at least may have done so in the past. The possibility of a passing star disturbing the Belt in the distant past is cited by some as an explanation, but appears to be the 'nuclear option', in that it would have profoundly affected the composition of the outer solar system.
Of course, I'm inclined to think that the influence was that of a smaller 'sub-brown dwarf', in a relatively distant orbit around the Sun. Some astronomers consider this possible too, and have discussed it, like Mike Brown, Alice Quillen and Hal Levison, although they would argue that this object must have left the influence of the Sun a very long time ago. Even with that proviso they have reservations: