One of the themes I took up in my novel "The Followers of Horus" was the habitability of a moon orbiting a sub-brown dwarf, and how this might work in practice. The moon would have to be very close to the primary body to sit within its habitability zone - as Earth (just about) does with respect to the Sun - and the likely outcome of this is that the moon would be in a tidally-locked orbit. Our own Moon is tidally locked, meaning that it spins on its axis at exactly the same rate as it orbits about the Earth, with the result that it always shows the same face to us. Similarly, a habitable moon orbiting a Dark Star deep in our solar system would always show the same face towards the failed star, meaning that one side of the planet would be warm, the other much colder.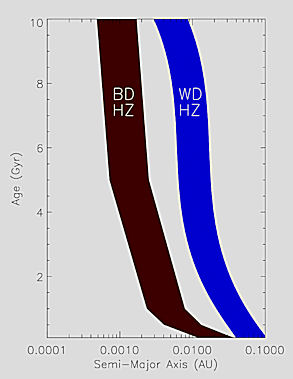 This, and other issues, have been recently discussed by scientists (1). A paper considering whether brown and white dwarfs might have habitable systems has become a talking point (2). Because brown dwarfs are still not very well understood, it is hard to say for sure, but barriers to habitability include the strong ultra-violet light bombarding the moon during the early life of the brown dwarf, causing water to be removed from the surface of the potentially habitable world. Of course, such a process likely also happened on Earth during the early, hotter stages of the Sun's life, and yet here we are, nonetheless. This is a point overlooked by academics discussing the possible existence of water on such worlds.
The impact of water-bearing comets is a possible solution to that issue, and it seems likely that a cooled down sub-brown dwarf system in the comet clouds would also pick up water in a similar way. Another solution is planetary migration within the system, where the moon migrates into the habitable zone once the brown dwarf cools.
The surprising abundance of water throughout our own system should give pause for thought before prematurely discarding the potential for life in much smaller systems which, lacking the harmful top-end radiation emission of a powerful star, may be surprisingly conducive to life.
Written by Andy Lloyd, 12th April 2013
References:
1) Rory Barnes and René Heller "Habitable Planets Around White and Brown Dwarfs: The Perils of a Cooling Primary" Astrobiology, 13:327, March 2013, with thanks to Mark