NASA announce there is (probably) life on Mars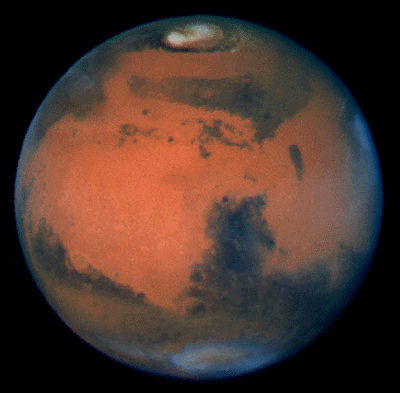 I heard on the BBC news this morning that NASA will announce today that they have discovered smoking gun evidence for the existence of life on the red planet. A thin layer of methane has been discovered in the light Martian evidence. Methane is a chemical that, in nature, is derived exclusively from biological processes. It cannot be in the Martian atmosphere solely as a result of geochemical or meteorological conditions. Therefore, the find heralds the existence of life on Mars.
What form does that life take? Most likely very simple microbial life known as 'extremophiles', which are capable of handling the freezing cold conditions on the planet. It was thought that such life might only be found below the surface of Mars, but recent discoveries have raised the possibility that water has moved across the Martian surface in the relatively recent past. So it is plausible that the Martian life might be nearer to the surface of the planet than originally anticipated.
The finding, if proven, would be a great step forward for those of us who advocate that life is as routine a feature of the galaxy as stars and planets. Whether life emerges as a natural event all over the universe, or is widely spread by comets (panspermia) once it takes hold, it is everywhere.
Reference: http://www.thesun.co.uk/sol/homepage/news/article2133475.ece
Andy Lloyd, 15th January 2009
Well, the announcement did go ahead, but in typical NASA style, they sat on the fence. Indicating that there may have been a subterranean volcanic source for the methane in the atmosphere, they did not offer the conclusion expected by many commentators - that methane indicated life. But that is surely what it does mean. NASA seem to be struggling with this fairly simple concept. What is unclear is ... why? This extract from the Financial Times (16/1/09, p6) neatly summarises the likely source of the methane:
"The most interesting possibility is that Mars harbours "deep bio-communities" that use hydrogen as an energy source and emit methane, similar to those found 2-3 km below ground in the Witwatersrand basin of South Africa. They could have been isolated for millions of years from the inhospitable conditions on the planet's surface."
Just to add fuel to this puzzling fire, now there's this little gem:
Water dripping on Mars...DRIPPING, Nasa!....Hello!!
The impossible has become possible...water on Mars. How??? The only real conclusion - our consensus understanding of the surface environment of Mars is wrong. Plain wrong. This remarkable 3 minute bulletin on BBC radio news is simply astounding:
"A series of photographs taken by NASA's Phoenix Lander show what look like water droplets clinging to one of its landing struts, which may have splashed up when the spacecraft landed on Mars. Science correspondent Tom Fielden explains the implications of finding water on the red planet."
http://news.bbc.co.uk/today/hi/today/newsid_7949000/7949884.stm
Planet X Conference, Rome 2009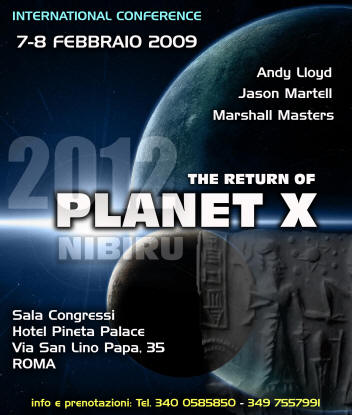 I had a great time at 'The Return of Planet X' conference in Rome during the weekend of 7th-8th February 2009. I've put together a blog, complete with photos, all about the event and the hair-raising events leading up to it:
Andy's review of the Planet X Conference in Rome 7th-8th February 2009
New Scientist asks: Is there a Planet X?