Andy Lloyd's
Dark Star Theory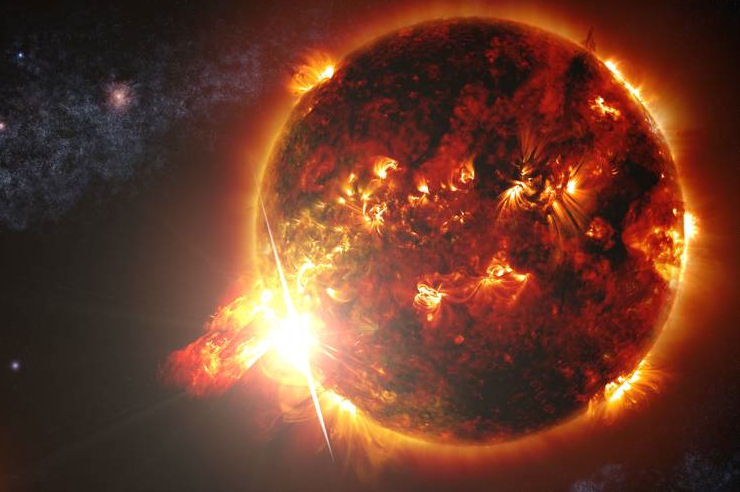 Book Review: 'The Gods Never Left Us' by Erich von Daniken
Book Review: 'Conscious Ink' by Lisa Barretta
This website explores the existence of an additional, massive planet in our solar system. It goes by many names: Nibiru, Planet X, The Destroyer, Nemesis, Wormwood. Some consider this object, which is spoken of in many mythical writings, to be a regular planet in an elliptical orbit. This website explores a bolder idea. The phenomenon known as Nibiru is derived from a binary failed star orbiting our Sun at a great distance. This binary object is a sub-brown dwarf, several Jupiter-masses in size. I call this object the Dark Star.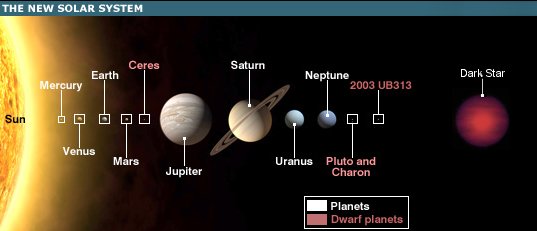 The solar system as I propose it to look; only, a bit more spread out!
The Dark Star is the cause of many effects on our solar system. It explains a wealth of anomalies in the outer solar system, particularly in the Kuiper Belt. The scientific evidence is solid enough, and I go into a great amount of detail about it in my first book 'The Dark Star'. This now distant object was capable of causing great catastrophes in the past, and perhaps will once again cause global disaster in the future.
I believe that the Dark Star plays an important part in our own history. Because this object emits heat, and a small amount of dim light, it warms and nurtures its own planetary system. That system is capable of supporting complex life right on our cosmic doorstep. This is what makes the Dark Star Theory so relevant to anyone studying ancient mysteries. It proposes the existence of a local dark star system where visitors to our planet came from in the distant past, and where, in a way, we may have come from too. This idea of cosmic visitors from Nibiru is derived from the writings of the late Zecharia Sitchin, but finds credibility through the Dark Star Theory. This sub-brown dwarf is part of a much bigger picture - one involving a whole new paradigm.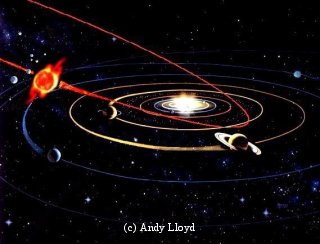 This image is all over the Internet, but it started life here!
I have had three books published. My critically acclaimed book, 'The Dark Star', was published in 2005. It provides a detailed and thorough account of my highly original research in a popular science format. The book was translated into German and published by Kopp under the title 'Dunkelstern'. Also available on Kindle. I'm currently writing a second non-fiction title, due for publication later in 2017. If you would like to be informed when it comes out, please email me andy-lloyd@hotmail.com
My debut novel 'Ezekiel One' (2009) is the first in a fictional trilogy. This new work sets out my personal vision of the Dark Star and the Anunnaki through a series of fast-moving, conspiracy-filled thrillers. Also available on Kindle.
The sequel 'The Followers of Horus' ( 2010) is also now available. This latest instalment is part espionage thriller, and part sci-fi. Taking centre stage are living gods among us who manipulate humanity to their own ends. My full vision of the planet Nibiru is revealed in this book. Also available on Kindle. I have plans for a third novel to complete the trilogy as a future writing project.
You can keep up with the latest news and updates in the "Dark Star News" section, including a monthly Dark Star Blog, last updated 16/1/18. There are over 200 pages on this website, and are categorised by subject. There are a number of translated pages in Spanish, Italian and German, as well as an extensive selection of book reviews from the Alternative Knowledge genre.
Here are links to the various subject index pages, as well as the Dark Star Discussion Group, and finally a Dark Star website search tool which you might find useful:
News Scientific Esoteric Messianic Artifacts Miscellaneous Mythological
Andy Lloyd Book Reviews Greg Jenner Other Contributors Gloster Ghosts
Dark Star in Spanish

Dark Star in Italian

Dark Star in German
Dark Star in Polish

Dark Star in Ukrainian

Dark Star in Romanian

Dark Star in Estonian

Dark Star in Latvian

Links Contact Dark Star Planet X Group

Click on the banner above to read over 100 book reviews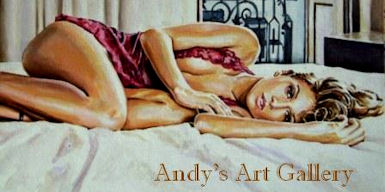 Click on the image above to visit Andy's on-line art galleries

Messages from this website's sponsors:

Essay School Camp - your resource for free writing help.

Free homework writing tips from expert academic writers.

MastersThesisWriting.com - dissertation company can write your dissertation or thesis paper on any Astronomy topic.

U.K.

brides