Winchcombe 1
Belas Knap Long-Barrow
We've been working our way around some of the spookier parts of Gloucestershire, taking digital photos of orbs, and other strange things. A correspondent, who works at Sudeley Castle, suggested that we head out to Winchcombe, a small Saxon town miles north-east of Cheltenham. Winchcombe is a beautiful little place, very "oldy-worldy". And most of the inhabitants of this old place look like they fit right in!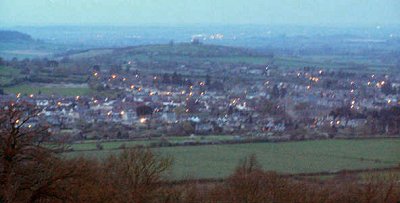 Joking aside, this is a great place to visit. My wife and I tend to visit the town to eat at 'Ye Old Corner Cupboard", a smashing little pub on the main road. Of course, it's reputedly haunted, with the sounds of children running around often heard by pub-goers. When we go, our kids become the prime suspects, it must be said.
But it's not just this pub that's got a history of ghostly activity.
As a general point, it is worth noting that some ghosts are often seen with their feet or legs submerged , gliding along the road as if travelling along a path sunk a couple of feet below it. Which make sense, when you think about it. Most old towns gain in height over time, as centuries of urban construction adds additional layers of history over time. For instance, the Roman walls in Gloucester are largely to be found underground now. Any ghosts of Roman legionnaires, upon the old ramparts, would be seen walking through modern basements nowadays!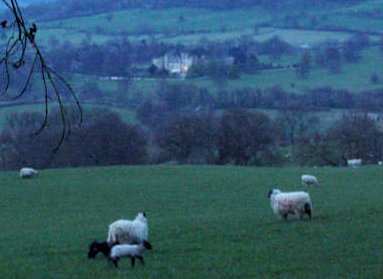 What is strange about one of the more notorious ghosts to haunt Winchcombe, is the fact that it glides along two feet above the ground. It haunts the old railway station to the north of the town. But other Winchcombe ghosts, mostly dark monks, are seen semi-buried in the ground as they glide along, notably in the Cowl Lane and Pike Bank area.
The ghostly monks of Winchcombe are generally associated with the old site of Winchcombe Abbey, founded in 788AD by King Kenulf. During Saxon times, the town was the capital of the Kingdom of Mercia. Kenulf's son, Kenelm, succeeded him at the tender age of 7, and was the unfortunate victim of an assassination plot, the story of which displays many mythical overtones.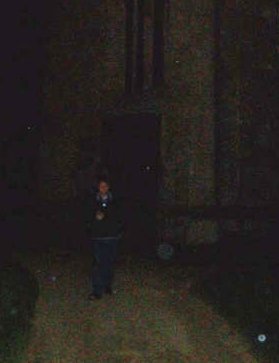 The old Abbey once housed 300 monks, and the site where it stood is reported to be associated with ghostly chanting at midnight. It was destroyed by Henry VIII in 1539. Excavations at the old site revealed two stone coffins, which are now housed in St Peter's Church in the town. Monks are often seen in the town, too. These hooded spirits are known in the trade as "Genii Cucullati".
So there is a rich history of paranormal activity here, and Martin and I decided to put its reputation to the test.
Belas Knap
It was still light when we drove up Cleeve Hill towards Winchcombe. We decided to head towards an ancient barrow set atop one of the Cotswold Hills overlooking Sudeley Castle. Visiting this old burial ground would fill the time before nightfall, because one must trek about a mile up the hill to reach it.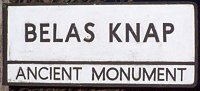 The Belas Knap Barrow is on one of the highest points of the Cotswolds, a few miles from Winchcombe. It is an ancient megalithic site, as catalogued by Service and Bradbery (1993):
"Belas Nap (sic), long barrow, 3 miles south of Winchcombe, Glos. Signposted from a minor road of the A46, the wonderfully restored chambered long barrow lies a 2-mile walk uphill. The forecourt and the direction it points is, unusually, due north. But that means that two of the three chambers (in the sides) point in a sunrise direction (the larger towards 90 degrees, while the third points west."
Skeletons of a chieftain and his family were found here during excavations some years ago.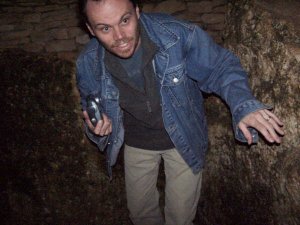 It is an impressive place, with several small, enclosed entrances containing ancient stones. We captured many orbs in this area, as you can see below. One can sense the ancient mystery embedded in the Cotswold Hills, particularly as the darkness sets in.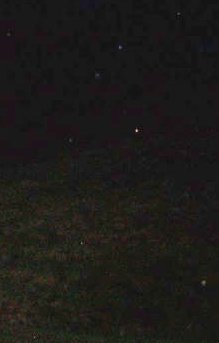 This area is well known for its strangeness. In the twilight my generally artistic eye picked up the almost unnatural ambient light as I looked towards the hills around me. Martin wondered whether he could actually visualize ley lines at one point, crossing the Worcestershire hills to the north.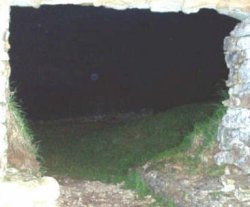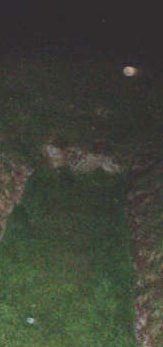 A local ghost story has it that a visitor to the long barrow once saw a group of monks crossing the hill towards her. She walked around Belas Knap barrow, and upon arriving back at the same point realized that the surrounding area looked quite different. The monks, of course, had disappeared. So perhaps our mild visual disturbances were not that unusual in this place.
A reader of this site, called Gemma, was motivated to write to us about her own experiences at Belas Knap, after reading the article of our recent investigation. She writes as follows:

"I've just been reading the Gloucester Ghosts" section of your website. I'm a "sensitive" who has had paranormal experiences her entire life. I also had a bizarre experience at Belas Knap, which I wanted to share with you.

My partner and I visited Belas Knap one evening last autumn. On the way up we saw greenish orbs with our own eyes, and I also thought I could "see" the ley lines (I'm sensitive to those too).

I also felt a presence in the woods, along with one close behind me that felt as though it might have been a priest. We both also felt a strange pins-and-needles sensation, and an inward chill.

On reaching the barrow we sat inside the main burial chamber and relaxed. I'd refused to go into the woods because of what I felt emanating from them, so we climbed the wall in the field. We'd been there for maybe half an hour, just chatting, when the pins-and-needles feeling hit us both again. It was so powerful that my limbs were actually vibrating. We then heard slow, rhythmic drums that seemed to come from outside the chamber. As you're aware yourself, no sound could reach the barrow from the road on a calm night. The drums didn't fade away as you would expect them to had they come from a passing car; they just suddenly stopped. I felt that we were being warned off, so we left. I didn't feel "normal" again until we were back on the road."

Spirits of the Woods
As we walked back across the fields, and down through the woods, Martin sensed a presence. He began to take photographs and was rewarded by clear orbs.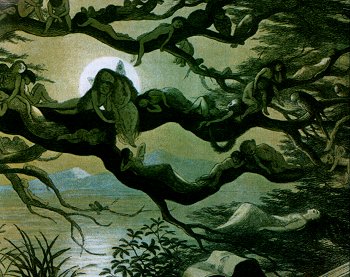 We discussed the concept of nature spirits inhabiting ancient woodlands, and wondered whether we had attracted the attention of a sylph, fairies or something similar.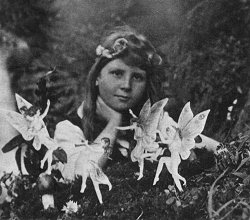 Of course, this might all seem a little far-fetched when sat in front of a computer screen. We are all aware of the infamous faking of the Cottingley Fairies (above) at the turn of the 20th Century, that fooled many experts, including the celebrated Spiritualist Sir Arthur Conan Doyle.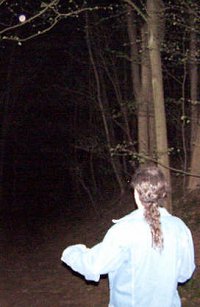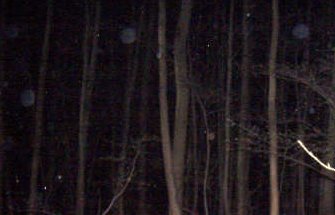 But with the moonlight streaming through the trees, and the hint of mist in the cold April night, the spirits of that wood seemed much closer when actually there.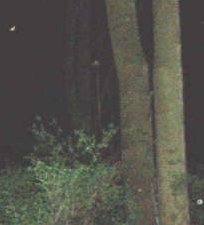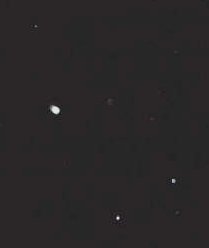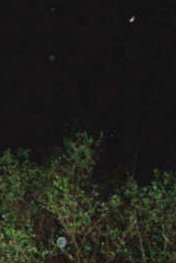 Talking of 'cold', we had been taking temperature readings around the hill and it had varied from about -1 Celsius in exposed areas to a sultry 4 Celsius in the barrow itself, which presumably had trapped the heat of the Sun's rays during the day.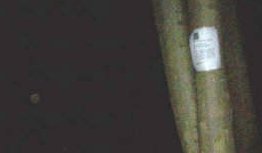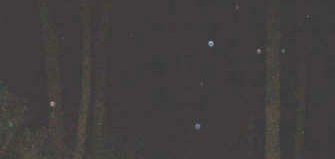 This will become important in a moment, as we describe the paranormal encounter that took place that evening in Winchcombe in Part 2...
If you have any examples of orbs on your photos that you are happy to see published onto the Gloster Ghosts websites, please e-mail details to
References
Roy Palmer "The Folklore of Gloucestershire" p144, 155, Westcountry Books, 1994

The folklore of Gloucestershire
Dennis Bardens, "Ghosts and Hauntings", pp34-7, Ace 1969

Ghosts And Hauntings
J. A. Brooks "Ghosts and Witches of the Cotswolds" p117-8, Jarrold, Norwich, 1981

Ghosts and Witches of the Cotswolds
Paul Devereux, "Haunted Land: An Investigation into Ancient Earth Mysteries and Modern-day Phenomena" Piatkus, 2001

Haunted Land
The Reader's Digest Association Ltd "Folklore, Myths and Legends of Britain" , p332, 1973

Folklore, Myths and Legends of Britain
A. Service & J. Bradbery "The Standing Stones of Europe: A Guide to the Great Megalithic Monuments" 2nd Ed., J. M. Dent 1993

The Standing Stones of Europe