One of Gloucester's shops, 'Poundstretcher', has experienced first hand something going bump in the night: Specifically, a stack of pallets was disturbed at around 2.30 a.m. The event, which left a mess all over the floor for surprised staff to discover in the morning, was documented up by the store's CCTV camera.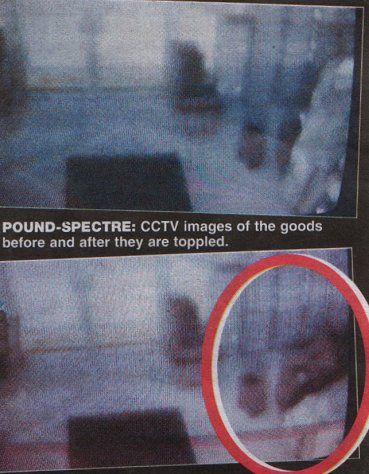 The deputy store manager, who has experienced odd things at 'Poundstretcher' before, looked through the night's camera footage, and believes that a dark figure can be seen standing behind the pallet before it took its nocturnal tumble.
Following the unexplained event, she is sure that she can make out the same dark figure, this time sat upon some cases. The dark figure seemingly captured on film has subsequently been associated with a regular ghost seen in the store, of a woman in a high neck black dress, with hair tied back and very white hands.
A reporter from 'The Citizen' relates some of the supernatural history of the building:
"It is not the first time it has been seen, or its presence felt in the store.
"Legend states that the unhappy spirit of a tragic actress haunts the store, formerly the Theatre Royal where the famous Victorian partnership of Sir Henry Irving and Ellen Terry once performed. Strange manifestations have been seen by many staff over the years, including the ghost of the lady and the mouldy inscription of the letter "E" on a cellar wall.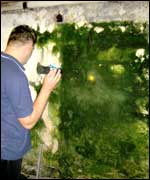 It is thought that the lady in question is Eliza Johnson, who joined the company in 1880. It is said that after a while things in her life went wrong - perhaps a failed love affair - and she committed suicide while still in her mid-20s. Now her ghost stalks the aisles of the shop where she once performed." (3)
In which case it makes you wonder what the poor ghost makes of her current environment; her theatre turned into a busy shop. One can perhaps understand why she might try and rearrange things every once in a while! Which, indeed, is what appears to happen according to other members of staff interviewed by the regional television news.
Shelves of goods left tidy at the end of a day's trading are regularly found in a dishevelled state the next morning.
A local paranormal investigator, called Steve Pointer, was asked by Central News what he thought of the CCTV footage. He wasn't sure what to make of it, but thought it worthy of further investigation. He said that there were energies at play in the store. The reporter summed things up by saying that the more you look at the second image, the more you start to see something there.
Written by Andy Lloyd, 20th March & 27th September 2005
author of 'The Dark Star' (2005), 'Ezekiel One' (2009), 'The Followers of Horus' (2010) and 'Darker Stars' (2019)
If you have any examples of orbs on your photos that you are happy to see published onto the Gloster Ghosts websites, please e-mail details to
References:
1) Eileen Fry "Strange and Ghostly Tales of Historic Gloucester" Architext Publications 1989
2) Eileen Fry "Ghost Trails of Gloucester's Past" Windrush Press 1995
3) P. Keogh "Store's Ghost angry on the Night Shift" The Citizen 26th September 2005
4) Central News report, ITV, 27th September 2005
5) "The ghost in the shop" BBC Radio Gloucestershire, 2005