Pavel Smutney is a Planet X researcher from Slovakia. He has proposed that the alignment of the planets, particularly the conjunction of Venus and the Sun, has a stronger effect on the Earth's environment than previously suspected. He has looked at the rather rare Venus transits and thinks he has found a correlation with major seismic/volcanic activity. There appears to be a 6 month interlude between the Venus transit and major earthquakes, volcanoes and/or tsunamis.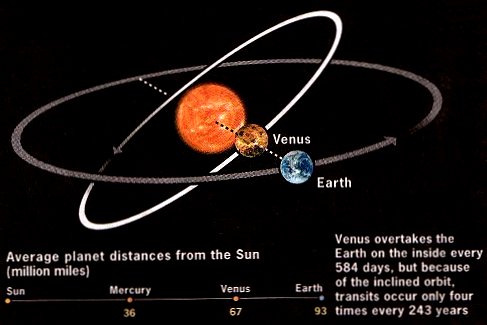 Venus transits are rare, and tend to come in pairs (6). The current pair occur during 2004 and 2012. The previous pair occurred back in 1874 and 1882, then 1761 and 1769, and so on back through history. Venus is our nearest neighbour, and during this transit, or conjunction with the Sun, is only about 26 million miles away from the Earth. I present here an edited version of Pavel's explanation of his theory:
"The earthquake that occurred on 26/12/2004 had very close ties with Venus transit on 8/6/2004. The Earth, Venus and the Sun were on one line, and furthermore this line pointed toward constellations Taurus ,Orion, Gemini, where the main gravitational tug from space, closest stars, and nebulas comes from.
"The Earth's axis is tilted toward those constellations during the present era, and during that time there was also grouped the inner planets. Additionally, the Moon was (end of spring, beginning of summer) was in its highest position in the sky, so its tidal forces were strongest. During the Indonesian earthquake and tsunami Venus was again in the identical position 7 months before.
"There was similar catastrophe on 26/8/1883, what happened Less than 9 months after Venus transit from 6.12.1882, when Krakatoa volcano erupted, accompanied with earthquakes, tsunami killing 10000 people died.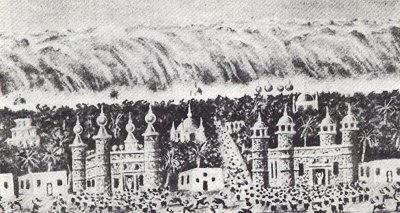 "Such similar super catastrophe had happened in 416A.D. Again, according my calculations, within 1 year of a Venus transit!
"The next transit will be 6.6. 2012. So what will happen then?
"My calculations are based upon factors such as the Senmut map, magnetic pole shifts, the accelerating rise of oceanic water levels, and the configuration of positions of planets on their orbits (there should be Planet X in perihelia in 2012, too), and the Mayan calendar speaks about global cataclysm in 2012 as well. On my web-pages I have argued that Venus significantly influences the heights of tides, which are caused mainly by Moon and Sun. This was also proved by Chinese scientists after measurements on their big rivers. If one looks at records of tides from various places on northern hemisphere from last year data reveals the same pattern." (7)
This is an interesting idea, although it needs more data points. Were there other recorded disasters occurring within 6 months of an historic Venus transit. In 1882, French and German scientific teams dispatched by the U.S. Naval Observatory to observe the Venus transit, "recorded a strange oscillation - the shockwave caused by the explosion of Krakatoa in Indonesia" (6). Is there a connection? Can we expect further trouble in 2012 when Venus once again lines up with the Sun?
Written by Andy Lloyd, 28th December 2004, and updated 24th March, 30th June 2005; 12th March & 10th July 2011
author of 'The Dark Star' (2005), 'Ezekiel One' (2009), 'The Followers of Horus' (2010) and 'Darker Stars' (2019)
Published by Timeless Voyager Press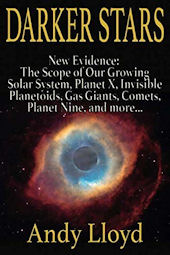 Darker Stars
References:
1) R. Grieve in Ann NY Acad Sci, vol 822, p338, 1997; Kyte et al. "New evidence on the size and possible effects of a late Pliocene oceanic impact", Science, 241, 63-65, 1998
pubmed.ncbi.nlm.nih.gov article
2) Steven Ward & Eric Asphaug "Asteroid Impact Tsunami - A Probabilistic Hazard Assessment", Icarus, May 2000
3) Steven Ward & Erik Asphaug "Impact Tsunami - Eltanin", Deep-Sea Research Part II: Topical Studies in Oceanography, 49(6): 1073-1079
4) U.K Government "Report of the Task Force on Potentially Hazardous Near Earth Objects", p18, British National Space Centre, September 2000
spaceguardcentre.com full_report
5) Madhusree Mukerjee "The Scarred Earth" Scientific American, 292(3): p8-10, March 2005
6) T. Radford "It is 6.19am, a black spot transits the Sun...and Venus lovers are in heaven" The Guardian 5 June 2005, p13
7) Correspondence from Pavel Smutný, June 2005,
8) Mensur Omerbashich "Astronomical alignments as the cause of ~M6+ seismicity" Submitted on 11 Apr 2011