Nightwish
Hammersmith Apollo 25th Sept 2005
We were at the back of a very long line of black T-shirt clad rockers and Goths waiting to get into the gig at Hammersmith in London. Quite a crowd, you'd have to admit. Certainly seemed like a small army of dark desperados waiting to join the fray.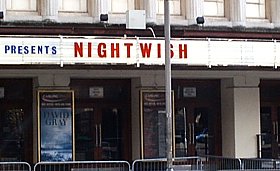 A couple of young women walked past us towards the entrance to the Apollo, who certainly looked like they might fit into this motley crowd. Hell, after just one pint of Marston's Pedigree, I'll talk to anyone! To save them the effort of having to walk all the way back, I ventured the wise thought that this was the end of the queue and they might as well save their legs by joining it here. For what? they asked. Nightwish, said I. Oh, we don't like Nightwish, they said. Without further ado, I bade them on their way!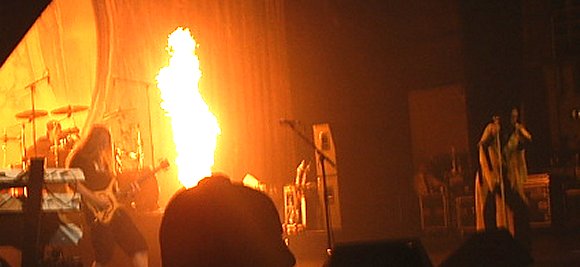 Well, it's true. Nightwish is not going to be everyone's cup of tea. A Finnish heavy metal band, improbably fronted by a trained female opera singer, and occasionally influenced by Scandinavian folk music; it's probably not going to appeal to your mainstream music lover. It sure as hell won't be music to the ears of your average opera fan! But as unlikely as it might sound, this band is absolutely brilliant.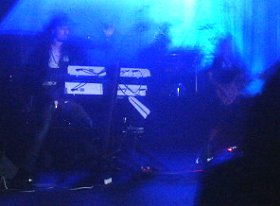 That's got be be because there is a vein of melodic gold running through their music, largely provided by the creative genius of the band, the keyboard player Tuomas Holopainen. Hey, welcome to the first Nightwish challenge: unpronouncable surnames abound! But fear not, my Anglo-Saxon friends: to the most part their songs are written in English. Which would make them really easy to sing along to, if you could only master the high operatic registers that their voluptuous-ish vocalist, Tarja Turunen, effortlessly explores.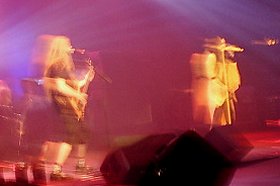 The evening started off with Paradise Lost, of whom I have an early album. My mate Pete, a bit of a Metal Muso, tells me that Paradise Lost went through a disappointing Depeche Mode-like period a couple of years back, before bouncing back with some solid rock 'n' roll. They were a pretty static band on stage, except for the two head-banging guitarists. The bald-headed one reminded me of army-based Metalhead squaddies in the U.S. who go to heavy gigs in black T-shirts and no hair, and mosh like nutters. The thing that struck me about Paradise Lost was that for a supporting act their sound was really good. But the lighting was poor, mostly back-lit, presumably to create some kind of malevolent atmosphere. The lighting contrasted strongly, then, with the lighting stage show employed by Nightwish which was, frankly, outstanding.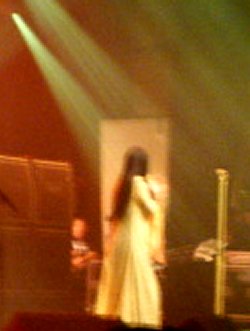 The crowd were pretty lively throughout. My mates and I had seats up in the balcony, and could see some serious excitement down in the Circle. I've since read some reports on the Nightwish forum that there was some trouble down there. My friends had brought along their kids, and I almost brought my 8-year old before deciding against it at the last minute. (Kids? Yep, some of us old rockers are getting on a bit. Last time I was at Hammersmith, the same gig was called the Odeon and I was seeing Mot÷rhead. That was in 1988. And, yes, it was bloody loud). So, I'm glad we didn't see any of the trouble, what there was of it. Still, I kind of enjoy getting amongst an excitable crowd at a gig, and jumping about a bit. Given that this was Nightwish's only gig in Britain this tour (besides the Download festival, which wasn't the smoothest gig for the band), it was unsurprising that a lot of their hardcore fans had shown up, intent on having a damn good time! The seats seemed tame in comparison.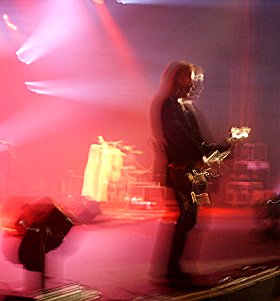 Anyhow, they worked through what appears to have been a fairly standard set, focussing, of course, on their newest, and most popular album, 'Once'. Which is the dog's bollocks, as we say here in Britain. If I had a pound for every time I've listened to that album, blah, blah, blah. Seriously, there are some excellent tracks on it. Not a duff song in sight. The use of an orchestra was incredibly effective on the album, and this required a backing track when the songs were played live. Some people, including my brother-in-law John, aren't big fans of backing tracks used at live gigs. But what were Nightwish to do, invite along a full orchestra and choir for the night? Here's the set-list, as tentatively recalled by 'Riplash' on the Nightwish forum:
Intro
Dark Chest of Wonders
Planet Hell
Everdream
Kinslayer
Phantom of the Opera
The Siren
Sleeping Sun
High Hopes
Bless The Child
Wishmaster
Slaying The Dreamer
Kuolema Tekee Taiteilijan
Nemo
----
Ghost Love Score
Wish I had an Angel
You'll notice, perhaps, the inclusion of a cover of the Pink Floyd song "High Hopes" from their 1994 'Division Bell' album. This was most unexpected, and I'm not sure the majority of the audience were that struck by it (Tarja went off for a break, leaving lead vocals to Marco, whose voice has evidently improved over the last couple of albums). However, I was really delighted with it, being a Pink Floyd fan. Perhaps it indicates the direction the band are thinking of taking at the moment? Or maybe they just like playing that tune.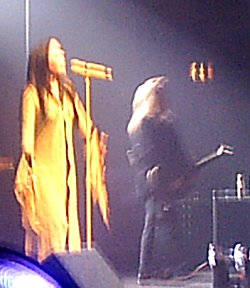 I've heard it said that for a long time Nightwish weren't terribly comfortable about playing live. Not quite as bad as 'Boston' perhaps, but nevertheless a bit wallflower-ish, possibly because Tarja hadn't the first clue about what was expected of a rock goddess. Well, they've certainly put that behind them. They seemed to thrive on stage, enjoying the evident adulation of the English throng before them. Despite the complexities of much of their music, they managed to put on quite a show. This reflects their creative and evident technical skills as musicians, I think, and made Paradise Lost seem positively morbid in comparison. It also reflected the amount of booze they were swinging back, particularly Tuomas! They were really enjoying themselves.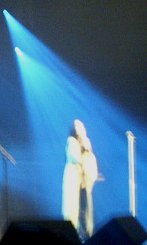 I was particularly impressed with Nightwish's drummer, Jukka Nevalainen, who gave it his all. There was no solo performance from any of the band members, save a solo rendition of "Kuolema Tekee Taiteilijan" from Tarja, which was truly magical. She has such an amazing voice, and hearing her sing in her native tongue was wonderful. She seemed to be more relaxed and natural with this song, which is presumably closer to her own natural musical sound.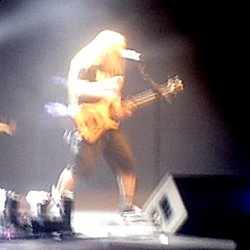 The bass player, Marco Hietala, has a charismatic presence on stage, and took on the role of band spokesman, cracking a few good jokes in the process. As mentioned before, his vocals are greatly improved too.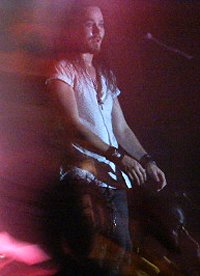 Tuomas was superb on keyboards, and Emppu was dancing around the stage all night. I don't think either of them dropped a note throughout. This excellent performance was enhanced by a cracking light show, including flame jets, and the release of masses of confetti towards the end of the night. They intended to impress us, and succeeded! Some filming was going on too, which should showcase Nightwish's potential to whatever media its released through.
Can't wait for the next album, and tour. Hopefully, this gig will persuade whoever controls these things to bring Nightwish to England a little more often in future. Do it.
Written by Andy Lloyd, September 2005
With thanks to Tom Case & Angels Whisper
Birmingham Academy 29th March 2008
Nightwish are a Finnish heavy metal band who use classical, orchestral and operatic influences to build up their awesome, unique sound. I saw them live a couple of years ago, just before they ejected their allegedly prima donna singer Tarja (below). (A great shame, because Tarja is a rare talent - now solo. She even co-wrote the song 'Dark Star' with Johnny Lee Andrews in 2010... which obviously has nothing to do with these reviews?)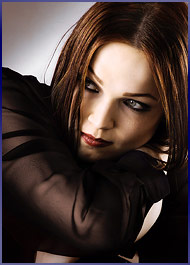 They have since begun afresh with a new female vocalist, Anette Olzon, whose fun-loving, cheeky character is a stark contrast to the allegedly self-absorbed seriousness of her predecessor. Anette's presence live is different also in her vocal characteristics, which are less operatic, and more traditional rock in quality. The band members are visibly more relaxed on stage, and the chemistry within the band seems better. This more informal manner was accentuated by the addition of a sixth band member for two songs in the set, namely Troy Donockley, who took centre stage with the bizarre instrument that is the Uilleann pipes. I bet Brummies don't get to see those played very often!
And that's what's great about Nightwish: They don't conform to any kind of stereotype. A bit like Ritchie Blackmore before them, they have taken up some unusual folk influences in their music. But they open their diverse influences out into beautifully structured metal requiems and rock symphonies, creating metallic opera pieces which could readily be the backing tracks for fast-moving Hollywood movies. Their favourite track at the moment, 'The Poet and the Pendulum', is a case in point. It is a mammoth piece of music, similar to the kind of music created during the Prog Rock era, just with the unique Nightwish blend. This seems to be the direction the band is now taking, which is terrific.
A few personal points about this gig. I'm nearly 40, but I still love to get stuck into the middle of a heaving metal crowd. I shouted myself hoarse. The Brummies were in great spirits, and created a brilliant atmosphere, even for the opening band from Sweden, called 'Pain'. The crowd was ecstatic with Nightwish, and Anette said at the end of the gig that we had been the best crowd yet; this seemed to be confirmed by the bus driver of Nightwish posted onto the Nightwish forum:

a) "The Birmingham crowd was un-f**kin-believable!"
b) "The guys had a very special guest backstage: Mr Toni Iommi (!!!)"
c) "The crowd was definitely the best on the whole of the UK tour this far"
d) "Birmingham know how to F**KIN┤ rock!"
Heavy Metal was born in the West Midlands, so it's hardly surprising really!
It was the first gig I've been to since the smoking ban, and I have to say that it made it so much better not coming home reeking of fags. So that was great.
The weirdest thing of the night was the timing of the gig. The doors opened at 6pm, and Nightwish came on at 7.30pm. The whole thing was wrapped up by 9.30! Very strange. Listening to the band speaking English is really funny too, with Marco and Anette doing most of the talking. Tuomas, the genius composer of the band, speaks really good English, but he never speaks to the crowd at gigs. But I guess that wouldn't be so amusing.
Emppu was brilliant on guitar, as ever. He's not the tallest bloke in the world, so it was often difficult to watch what he was doing, but what I saw and heard was flawless. Jukka plays the drums like a man possessed, and Marco has got to be the coolest bassist in the business.
All together, a great night, as the band continue to go from strength to strength.
Written by Andy Lloyd, March 2008

Wembley Arena 19th December 2015

Third Nightwish gig, third vocalist. The magnificent Floor Jansen joined the band in the midst of one of their tours, and recorded the Darwinist-themed Endless Forms Most Beautiful in 2014. The Wembley Arena gig was the band's only UK show, right at the end of their 2015 European tour, and there was an air of expectation that this performance would be something really special. And so it proved!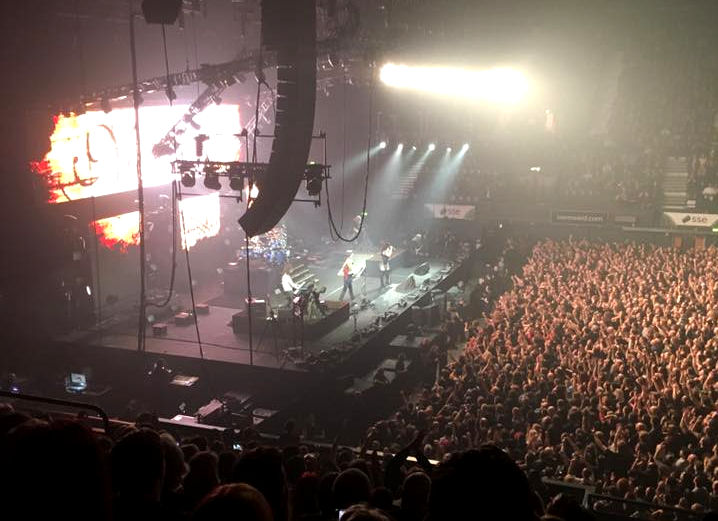 We got to the gig really early and hung out in the foyer for a while, waiting for the Black Tide of fans to be admitted up the stairs into the arena proper. Not sure why, but a representative from the arena's restaurant came up to us and invited us up, allowing us to cut past the bulging line and go and enjoy a drink with great views of the stadium opposite. Why she picked us is anyone's guess - we looked no less motley than anyone else there. This unexpectedly VIP treatment raised our spirits further - threatening to launch Geordie into a metal-gig-fuelled reverie of innuendo and mirth-making. Oh, yes, what a night this was to be!
Dave and Chris are into Amorphis, so I guess they enjoyed the opening act pretty well. The sound quality wasn't great, though, and I wasn't really sufficiently up on this lot to really get into it. Personally, I preferred the second band, Arch Enemy, with their pagan priestess of a lead vocalist who animated tribalism brought the place to light around the middle of their set (once she'd ditched the Gary Glitter gear). These were two really dark, high energy bands, which risked making Nightwish sound pompous in comparison. After all, Nightwish takes Bruce Dickinson's line about heavy metal being working class opera to new heights. Should I have worried? Of course not. Immediately on arriving on stage, to a tumultuous reception, Floor announced that the evening's performance was being filmed for a DVD. The first song, 'Shudder Before the Beautiful' (and I suspect many of the blokes in the teeming black mass before her knew exactly what that meant!) had been accompanied by the most incredible display of pyrotechnics, lights and smoke I think I've seen at a gig of this size. Wow! It wouldn't have surprised me if Nightwish had sorted it for the Arena's roof to be ripped off halfway through the gig - for us to be treated to an impromptu fireworks display this unnaturally warm December night.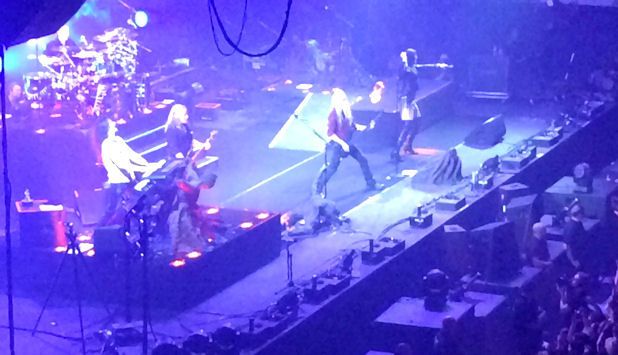 And so the gig went on, song after blistering song. Amazing light show, awesome instrumentals, captivating vocals, and a cohesive band who wouldn't have looked out of place setting off on a Lord of the Rings-style quest. Nightwish certainly had a transporting effect on the crowd, which responded with vigour and delight at every theatrical turn.
The choice of songs was interesting - there was a strong emphasis on the three most recent albums. it was like the band were showcasing their modern era. Of course, Floor sang a few Tarja-era numbers - perfectly adequately, I'm happy to report. Indeed, "Ghost Love Score" was undoubtedly the best song of the night.
But Floor's strength shone through not only in her own songs from the new album, but the way she lifted her predecessor Anette's work. The new rendition of "The Poet and the Pendulum" was nothing short of triumphant. Similarly with "Storytime" and 'I Want my Tears Back" from the Imaginaerum album, which Nightwish seemed to collectively breathe new life into with this wonderful new vocalist. It's no surprise that Nightwish have themed their new album around evolution, then, given what's been happening in their own band for the last ten years.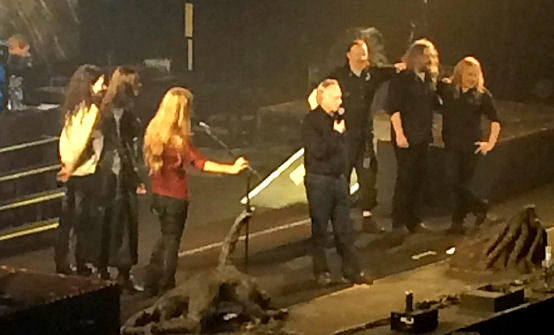 Dawkins with Nightwish
Which brings me to the much-anticipated surprise of the night - the appearance of Professor Richard Dawkins right at the end of "The Greatest Show on Earth" at the end of the set to recite his final voice-over live. I can't imagine he's ever, ever received the kind of reception he got from the Nightwish crowd as he humbly spoke of the marvels of evolutionary science. The band were clearly emotional in his presence. I guess this was, for them, the hoped-for culmination of the new album's powerful message about nature's incredible beauty, and science's relevance in a strife-filled world. This meeting of minds between metal and academia is a quirky juxtaposition, to be sure, but it also represents an affirmation of the quiet intelligence that - surprisingly perhaps - underlies much of this raucous music genre.
I promise you, this live CD and DVD will be amazing ("Vehicle of Spirit" 2016)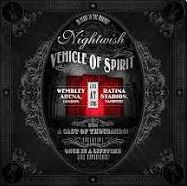 You can order your copy of the Vehicle of Spirit CD + DVD edition through Amazon.com here:

If you live in the UK, you can obtain your copy through Amazon.co.uk here:
Written by Andy Lloyd, 20th December 2015
Images courtesy of Pete Scott and Chris Lloyd
'Nights out with Nightwish' Photoalbum
Our merry band preparing pre-gig.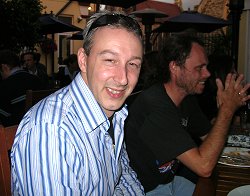 Geordie & Andy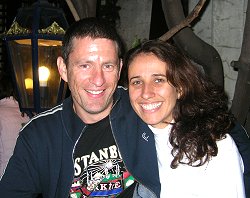 John & Cris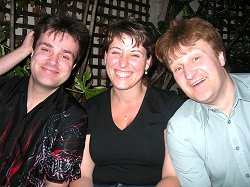 Dave, Ali and Mart, 2005.
Simon and Andy, Ginny and Pete 2005.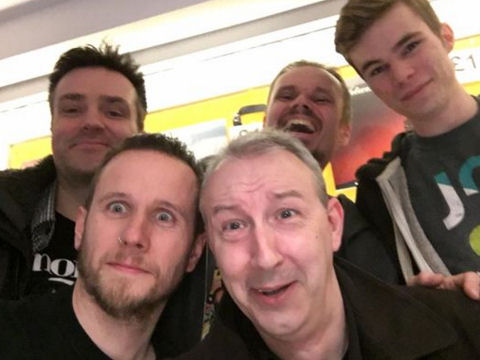 Dave, Pete, Geordie, Andy and Chris, 2015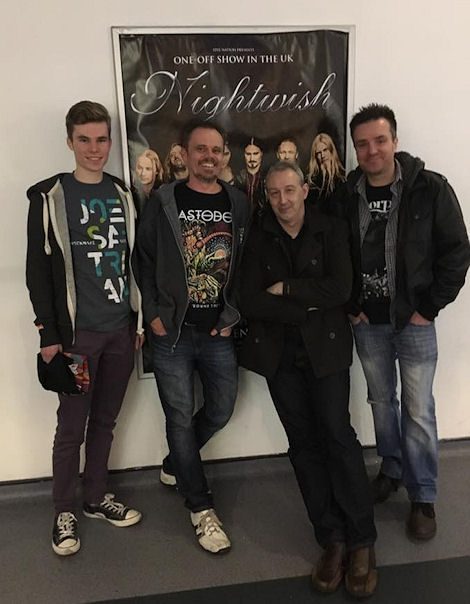 Chris, Andy, Simon and Dave, 2015.
Photo credit: Pete Scott
Written by Andy Lloyd, author of 'The Dark Star' (2005), 'Ezekiel One' (2009), 'The Followers of Horus' (2010) and 'Darker Stars' (2019)
Published by Timeless Voyager Press