Ian Anderson ( of Jethro Tull)
Cheltenham Town Hall 22 September 2009
The gig started at 7.30pm. My mate Mark and I looked at our tickets and noted with the muso-wisdom that comes with age that 'special guests' were included on the bill. So, Ian Anderson won't be starting any time soon, thought we, sagely. When we arrived at the town hall at 7.45pm we could hear Ian Anderson already singing, and we were informed that we would have to slip in during the applause. Slip in during the applause?? That's not very Rock 'n' Roll. I remembered jumping about in the third row during a Tull gig 20 years ago - you didn't have to wait for applause then! Well, I guess we've all got a bit older now. The Cheltenham Town Hall elderly doorman informed us (we must have looked puzzled) that the gig had "actually started late", which was probably his way of pointing out Tull's irreverence in this gilded shrine to the classics. Does he not realise that Ian Anderson was awarded an MBE??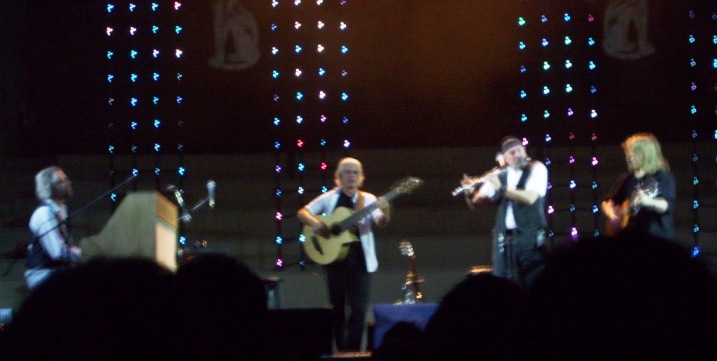 John O'Hara, David Goodier, Ian Anderson and Florian Ophale.
So, one of my favourite tunes missed (it sounded like Nursie), we stepped into a packed, seated hall. The stage was simply set, with four images of the Egyptian cat goddess Bastet hoisted above the band. And an irreverent gig it was. The non-Tull ensemble proceeded to play an acoustic set of minor and major Tull classics. There were a great many extended improvisations, re-workings and instrumental solos. Mixed into this were Ian Anderson's often bizarre theatrics and caustic wit. Like Rolf Harris turned to the Dark Side, he whistled and hummed through his flute like days of old, and even managed a few careful jigs about the stage. Not bad for an old blighter!
Ian's band were exceptional musicians to a man. The hero of the night was undoubtedly his young German guitarist sidekick, Florian Ophale, who would not have been out of place in the Jethro Tull of the sixties. He and Ian had a good rapport between them , both socially and musically - almost a father and son at work. This felt doubly so when Ian introduced a song about Anoushka Shankar, the musical daughter of the legendary sitar player Ravi, who at the tender age of 90 is still performing a 'swansong' gigging tour of India. Which begs the question: Is this Ian's swansong tour? After 40 years in the musical business, he must be thinking about it.
Ian's musical performance was excellent - his mastery of the flute and mandolin complete. The only hint of the ravages of time were on his vocals, which strained a bit through one or two of the classic Tull numbers towards the end. But he was performing a two set gig, so that was entirely understandable! I think there's plenty of life, and gigs, in the old dog yet.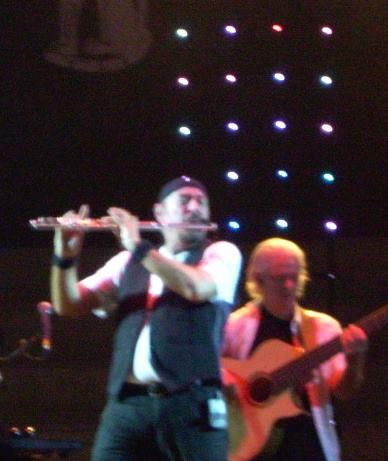 Much of the music on offer had a distinctly folk feeling to it. But the eclectic mix included classical, rock, Celtic and Indian influences and "the J-word....jaaazzz." The feeling of the music was still very much Jethro Tull, which contrasted with, say, Ritchie Blackmore's departure into the world of folk and elves. My favourite pieces in the set included Bouree, Fat Man, Mother Goose, Jack-in-the-Green, the Locomotor Breath/Living in the Past medley and Wind-Up, in no particular order. Aqualung had been rearranged a bit too much for my liking.
But the real gems were the instrumental sections, both solo and group improvisations. Florian Ophale's flamenco-style solo was a triumph. John O'Hara sang a beautiful folk song about the shipyards near Bristol, and David Goodier's bass paying was outstanding throughout. He was playing an acoustic 6-string, which must have weighed a ton! The timbre of the low bass notes resonated deeply within the hall, rounding off what was a superbly mixed set.
Ian's band continues the tour in the U.S. and Europe through the autumn and Christmas period.
I think it's fair to say that Cheltenham was his home crowd - I understand he has a farm in south Gloucestershire. He certainly got a good reception, and was in good humour as he signed memorabilia for us round the back at the end of the night - I guess the prospect of the trip back home wasn't too onerous for him. He might even have got his hot mug of Horlicks in before midnight!

You can order Ian Anderson's live album through Amazon.com here:
Thick As A Brick - Live In Iceland (3LP)

If you live in the UK, you can obtain your copy through Amazon.co.uk here:

Jethro Tull's Ian Anderson - Thick As A Brick Live

Review and photos by Andy Lloyd, 23rd September 2009

Andy Lloyd is the author of 'The Dark Star' (2005), 'Ezekiel One' (2009), 'The Followers of Horus' (2010) and 'Darker Stars' (2019)