Wide Binary Brown Dwarf Precedent
The discovery of a brown dwarf just 12 times the mass of Jupiter has excited astronomers studying extra-solar planetary systems.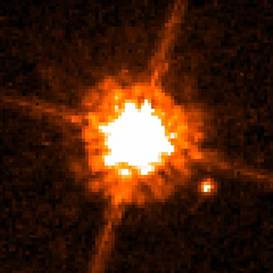 This object is on the edge of planetary status, and is barely large enough to be included in the category of brown dwarf. But what is even more exciting about this discovery, made by Kevin Luhman's team, is that the CHRX-73 system is a wide, low-mass stellar binary.

This brown dwarf/massive planet travels around its larger stellar companion at a whopping 200 Astronomical Units. (This is the kind of distance mooted for Nibiru, a planet with an orbital period of some 3600 years.)
This is puzzling astronomers because such a wide orbit is beyond the scope of planetary formation for the parent star in question. Simply put, this object could not have accreted at such a great distance. So how did it get there? It seems likely that it formed as a 'star', albeit a failed one, in its own right. This is exactly the kind of scenario presented in my book 'Dark Star', and the discovery sets an excellent precedent.
It is surely now impossible for sceptics to argue against small brown dwarfs existing beyond 200AU in our own solar system. Let me explain:
The Only Game in Town
It is thought that planets form by accreting together the dense material of a fledgling star's proto-planetary disk. This enormous disk is a spinning cloud of gaseous matter whose centre condenses into a star. Over time the remainder of the disk clumps into planets. The sizes of disks vary, but a reasonable assumption is that our own Sun had a proto-planetary disc whose substantive radius was about 30-40 Astronomical Units; just over the distance to the planet Neptune. Much bigger than this and one would have to explain where all the planets are beyond Neptune. Given that astronomers can rule out substantial planetary bodies out to about 50AU, it seems reasonable from their point of view to argue that no massive Planet X body could have accreted beyond that point, because the Sun's proto-planetary disk simply wasn't large enough to provide the necessary building blocks for planet formation that far out.
In other words, without large Earth-sized planets turning up just beyond Neptune it seems unlikely to the scientists that massive planets would have formed even further out. The ability to form planets in the disk should tail off beyond Neptune.
But...That assumes that the Sun formed as a singular star with a uniform proto-planetary disk. In fact, evidence from the outer solar system suggests the picture is far more complicated than this, as I have outlined in 'Dark Star'. Additionally, there is a completely different scenario to consider; that the Sun formed as part of a wide binary system, the smaller partner of which is a sub-brown dwarf. Picture the early solar system under these conditions; two spinning clumps of gaseous matter orbit around each other at, say 200 Astronomical Units distance.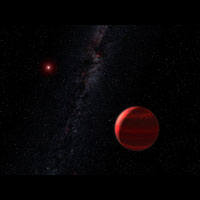 The larger one forms the Sun and its 'classical' proto-planetary disk, the second forms a sub-brown dwarf with its own independent proto-planetary disk. Such a scenario would explain the anomalies of the Edgeworth-Kuiper Belt, where there is an inexplicable gap of objects beyond 50AU. It also provides a very sensible mechanism whereby a brown dwarf could form beyond the classical proto-planetary disk, and be found located in a wide binary orbit with its parent star. This seems to be what's going on with the CHRX-73 wide binary.
I suggest this is what's going on in our solar system. There is a small and rather dark binary companion orbiting the Sun at a great distance, which has been there since the very beginning of the solar system. It has its own independent system of planets, capable of supporting life.
To my mind the Dark Star Theory is the only way to fit all the pieces of the puzzle together. Ufologists puzzle over where aliens come from; how they manage to travel the incredibly immense distances between stars without having the impossible capability of being able to travel faster than the speed of light. The answer is clear as day; they have come from our own cosmic backyard! The distance to a wide binary sub-brown dwarf is no distance at all compared to even the closest star. In a stroke it is possible to lay to one side this chronic enigma.
Written by Andy Lloyd, 13-20th September 2006
author of 'The Dark Star' (2005), 'Ezekiel One' (2009), 'The Followers of Horus' (2010) and 'Darker Stars' (2019)
References:
1) Jeanna Bryner "Distorted Solar System Discovered", 19 September 2006, with thanks to Pat Thomas, David Pearson et al
2) Andy Lloyd "The Dark Star: The Planet X Evidence" Timeless Voyager Press 2005
3) Article on longer available online. With thanks to Phil Whitley
4) Donna Weaver, Ray Villard, B K K "Planet or a Failed Star? . . . Discovery Reveals One of the Smallest Stellar Companions Ever Seen" Penn State University, 7 September 2006
5) European Space Agency "Planet Or Failed Star? One Of Smallest Stellar Companions Seen By Hubble" 8 September 2006
6) Los Alamos National Laboratories