Gloucestershire UFOs
Flap of Silent UFOs over Gloucestershire, Summer 2005
Gloucestershire seems to have had something of a minor UFO flap during July 2005, with silent UFOs spotted over several places in the county over the course of the month. The behaviour of the lights seems to rule out the possibility that they are satellites, light aircraft or micro-lites. Perhaps they were connected with the annual Air Show held at RAF Fairford, one of the strategic bases used by the United States for its long-range bombers? Or perhaps this is a bona fide UFO flap? We have heard that aircraft from RAF Brize Norton are being re-deployed to RAF Fairford. But could these aircraft really include super-secret silent jets?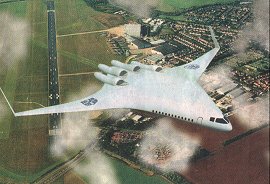 This image shows an artist's impression of a future silent aircraft, the design of which is the subject of a research project involving Rolls-Royce, Boeing, British Airways and the Civil Aviation Authority (The Guardian, 10/9/05, p6). The silent nature of the proposed future craft is brought about through its ultra-aerodynamic 'flying wing' shape which cuts out the noisy air turbulence common to normal aircraft. It is generally appreciated that military technology can be a decade or more in front of civil aviation technology. Does that mean that advanced military craft, the kind that might be housed by the USAF at Fairford, already has silent flight technology? In which case, is this the source of the Gloucestershire summer of UFOs?
Witnesses include a young couple from Prestbury, near Cheltenham, who witnessed a remarkable array of lights over their house in late August. They seemed to act like fireworks, but there was no accompanying sound. They both watched in amazement as the spectacular, yet mysterious display of lights swarmed in the air above their house. Here's another similar report appearing in the local press:
A ghost-hunter is appealing for other county fans of the paranormal to help him identify strange moving lights he saw in the sky over Gloucestershire. Member of the Gloucestershire Paranormal Research Group, Chris Howley, 37, from Nailsworth near Stroud, said he spotted the first unidentified flying object late at night on 6th July 2005. "I was watching a plane come overhead and as it travelled from east to west I noticed a light come across from the south which was very bright. I thought it was another plane coming across but there was no sound of an engine and then it just disappeared, which I thought was very odd," said Mr Howley.

Mr Howley, a self-employed financial adviser, said he didn't then think any more about the light until he saw it again another evening. On that occasion he rang his brother in Lydney who witnessed the UFO as well. "The light came directly across from west to east," he said. "As it got half way across it split in two and went two different ways. There were three flashes of very bright intensity."

Mr Howley said that over the course of a week he then saw probably 20 similar objects. He was intrigued enough to leave a message on a Ministry of Defence UFO answering machine but hasn't yet heard back [No surprise there, then! AL]. He said: "I really just wondered if anyone else had seen them. What I am interested in doing is seeing how many other people noticed them, then we can try and get to the bottom of it. They might be testing some new fangled military aircraft overhead."
("The Citizen" 28th July 2005, With thanks to Trystan of the Severnside Centre for Fortean Research)
This succession of sightings was followed by the observation of a white, elongated light in the north of the county in mid-August by Cosmic Conspiracies, as well as some friends. Then came this article in the Gloucestershire Echo, dramatically reporting on a series of enigmatic orange lights appearing over Cheltenham. The UFO spotters included a retired police officer who holds a pilot's licence; an excellent trained observer whose acount is not readily explained away:

"Dozens of people have reported seeing mysterious orange lights above Cheltenham. The Echo has been inundated with calls from people who saw the unexplained lights on Saturday night. John Day, 48, took the picture of them while hosting a party at his Up Hatherley home. He said: "There were about 19 people in the garden and one of the small girls noticed the lights in the sky.

"I was taking a picture of our friends who were celebrating their anniversary and thought these lights looked strange so I started taking snaps. We thought it was a balloon with lights in at first, but when it passed over the house we weren't too sure. The girls think it was a UFO. The lights were strange."

Coach driver Pamela Bailey, 48, pulled over when she saw them. She was driving the Megabus back from London when she saw the lights from the A40 at Golden Valley.

Mrs Bailey said: "I stopped at the Arle Court roundabout and the passengers were all looking up at the sky. I then moved on to to the Westal Green bus stop and three men jumped out to have a look. All the passengers were totally amazed. When I got to the depot in Cheltenham all the other drivers had seen them."

John Creed saw the lights with his wife and six friends while at a house in Warden Hill Road, Warden Hill.

He said: "Amazingly, the group seemed at one point to slowly take on the positions of the stars in The Plough or Big Dipper, not unlike those in a scene in the film Close Encounters of the Third Kind, before drifting apart again. These were definitely not conventional aircraft. I've had a keen interest in aircraft since a boy and have held a private pilot's licence for the last 33 years, so I'm well aware of the sort of lights displayed on conventional aircraft. I'm also a retired police officer. We all agreed that these objects were remarkable and unlike anything any of us had ever seen before."

Kevin Downes, 52, was running with his wife Alexandra in Winchester Way, Warden Hill, when they saw the lights at 10.30pm. He said they stopped, hovered above them then faded and dispersed. Gloucestershire Airport managing director Ian Statham, told the Echo on Tuesday: "Lights on aircraft are red, white or green - not orange."

Rod Salisbury, secretary of Cotswold Astronomical Society, says the lights could not have been meteors."


(Gloucestershire Echo "Dozens report seeing spooky orange lights" 25th August 2005)
There certainly seems to be a lot of activity in the skies over Gloucestershire at the moment. I don't think it's unreasonable to argue that this constitutes a UFO flap in the county. The question is, what's going to appear next? We are hoping to obtain a video taken of the lights by a Cheltenham woman.
On Tuesday 27th September a man had a UFO sighting across the Severn Estuary, which he then reported to Cosmic Conspiracies. The sighting took place in the Porthcawl area, looking towards Bristol and South Gloucestershire. The observer spotted 4 lights in a box shape. The object concerned was the size of a 10 pence piece held at arm's length. The lights were white in colour and blinked in sequence: top left, bottom left, top right, bottom right. Then the top left light blinked out, and the formation changed to a triangle shape.
The object flew towards the horizon and disappeared. All of the lights were brighter than a aircraft. The sighting took place at around 7pm.
Silent Objects over Cheltenham, 15th July 2005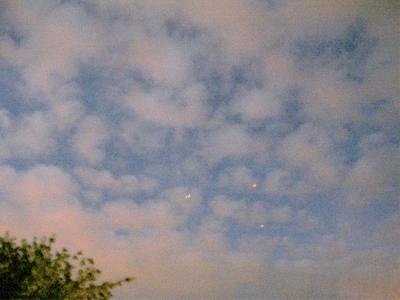 Andrew Oakley, the webmaster from the Myers Paranormal Society, wrote to Cosmic Conspiracies following this sighting:
We have had reports and PHOTOS of the "3 lights" phenomenon over Cheltenham again, this Friday 15th July 2005. Attached is a low-res enhanced photo. One of our researchers, Bruce, took the photos and reported:

"They were reasonably large like car spot lights but not so intense, they were a dull orangey brown colour, like car headlights on a flat battery, and flying quite low in an elongated triangular formation they were heading away from Cheltenham and towards Hatherley. They stayed in formation. I could hear no sound at all from them, whereas if they were planes or helicopters I'm sure I would have considering the distance, they changed course towards Shurdington road but then stopped, still holding formation the one appearing to be top right seemed to be moving away towards and into cloud, so elongating the triangle formation, they seemed to get smaller and then I realised that they were moving up, they carried on going up and I am sure they went too high to be helicopters. I lost track of them one by one as a large cloud moved in the way. ( I did manage to get some photos) I live not far from Staverton airport and so I am used to seeing all sorts of planes and helicopters flying around here day and night... these were not any planes or helicopters that I have seen the likes of before."

We have a few more photos on our Yahoo mailing list:

http://photos.groups.yahoo.com/group/parasoc/lst?.dir=/UFOs+over+Cheltenham+15+Jul+2005

We'd appreciate any comments you have. At the moment the only rational explanation is that it might have been a practice run in preparation for the Fairford Air Tattoo on Saturday?

One also wonders whether these may have been accidentally released helium-filled balloons buffeted upon the winds?
Meteors seen from Bristol
A pair of bright lights were seen moving across the sky north of Bristol in late January 2006. They had greenish coloured tails and moved across the sky swiftly. It's likely that these were meteors breaking up, known as 'bollides'. Details withheld in the hope that others come forward with corroborating testimony of the time/date etc.
Gloucestershire UFO report, September 2004
Location: Over a field near to the M5 at Tewkesbury
Date: Wednesday 8th September 2004
Time: Between 9 and 9.30pm
The witnesses, a 51year old resident of Tewkesbury with her 78 year old mother, saw a white light approach their house and hover over a field. Initially she thought it might be a plane or a helicopter, but for the duration of the sighting she heard no sound from it. It was a round object. The younger witness described it as emitting bright sparkly light, the older lady thought that it was behaving like a 'spinning top'. They were sufficiently intrigued to go upstairs and watch the object for half an hour. It was moving smoothly backwards and forwards over a field just beyond the last row of houses on the Northway estate, whilst maintaining a steady altitude. Behind the fields lies the M5 motorway near junction 9.
After a time the bright light went out and the witnesses could see 3 small, static lights underneath the object in a horizontal row. There was also a static red light at the back of the object. None of these lights was flashing. The object then turned completely red, and was described as a round, red sun in the sky, before then turning white again.
Towards the end of the sighting a light aircraft approached the object. The object moved quickly towards the south, seeming to respond to the presence of the light aircraft, and its lights went out. The witness was puzzled enough by the object to immediately phone her sister in Cheltenham to tell her about it and asked her to look out to see if the object had subsequently appeared in the skies over Cheltenham.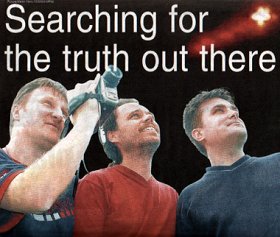 The 'Cosmic Conspiracies' team in 'The Citizen'
The witnesses remain puzzled by what they saw. They wonder whether anyone else saw the object in the skies above Northway on that night.
To my knowledge, there have been no similar sightings to this in recent years in Gloucestershire. Indeed, a sighting as detailed and intriguing as this is unusual. What impresses me about this report is that there were two witnesses, who were both puzzled by what they saw, and that the object changed its appearance several times in quite unusual ways. It also appears to have reacted to the presence of another object in the sky, by turning off its lights and moving away, which would be unusual behaviour for a helicopter. Air safety considerations alone would have prevented a helicopter from turning all of its lights off at night. The lack of sound from the object is also strange; a low-flying helicopter located a few hundred yards away would surely be fairly noisy, and attract the attention of many people in the Northway area that evening. Even so, I would not rule out the possibility of a police helicopter in the area of the M5 motorway being the source of this sighting, and that would need to be ruled out before other more unusual explanations could be considered.
Malvern Lights
The summer of 2003 brought forth a stunning UFO report in the neighbouring county of Worcestershire. A BBC cameraman caught some mysterious lights on film in the skies above Hanley, near the Malverns. This report on the BBCi website takes up the story:
"A BBC cameraman spotted three bright lights in the sky over the Malverns near the village of Hanbury on Tuesday and filmed them with a video camera. Some thought it could have been flares. But cameraman Tom Hines, who works on the BBC drama series 'Doctors', said he is convinced it was a UFO. "I kind of saw two bright lights and thought they were stars at first," he said. I pointed out where they were and started filming. They started disappearing and reappearing and at one point there was (sic) three bright lights. They kept appearing very randomly in different areas of the sky."
John Dawson, who lives in Hanbury, also saw the lights. "We went through all kinds of evaluations, like could they be fireworks, could they be flares and to be honest with you we couldn't come to any decision as to what they were."
BBC Midlands Today's science correspondent David Gregory has examined the tape and has spoken to local UFO experts. He said: "It could have been the Hanbury Orbs, which are a series of lights which are known to hover above the landscape in this area. But nobody knows for sure.""
Media interest in the UFO phenomenon continues unabated, despite speculation last year that the whole subject was now 'dead'. Of course, when it's the BBC itself filming UFOs, their interest is bound to be a little more piqued! However, it is likely that there is a simple explanation for this particular sighting, namely flares.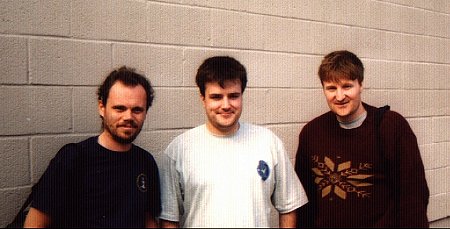 While this sighting occurred just over the county border, Gloucestershire is no stranger to UFO encounters. Dave and Martin, and their sister, were witness to a remarkable UFO encounter when a well-lit structured craft flew low over their house in Hardwicke, south of Gloucester. This occurred back in the 1970s, a time when UFOs seemed to regularly appear in the skies above Gloucestershire. The Cosnettes have since witnessed multiple UFOs of varying description.
In the July issue of UFO Magazine, Gary Heseltine, a Detective Constable in the British Transport police, published four reports by serving police officers from the county. Gary Heseltine runs the PRUFOS Police Database:
Case 29 (1975): "At 12:10am, an off-duty uniformed police officer was sent to investigate reports of a stationary light above the police radio mast on the top of Cleve (sic) Hill. As he made his way up a narrow road toward the mast, he saw a large, bright UFO hanging stationary to the right and above the mast. His police vehicle's radio went dead, as did his personal radio. He watched the light for a few seconds before it silently moved away following the contours of a nearby ridge. He returned to his vehicle and set off to pursue the light. At one point the UFO crossed the road on which he was travelling. For reasons he still cannot explain, the officer flashed his car headlights and immediately the object disappeared out of view at tremendous speed. Moments later he saw another marked police vehicle and his fellow officer corroborated that he too had witnessed the UFO shooting across the sky at great speed."
Case 34 (1976): At 12:30am, an off-duty police officer observed a huge cross-shaped UFO above the M5 motorway at the rear of his home in Tewkesbury, having just completed a 2-10 late shift at Cheltenham Police Station. The object, which was likened in size to a commercial airliner, slowly rotated above the quiet motorway. He described it as the size of as civil airliner and watched as it began to move slowly across the fields towards his home some 50ft above the ground. It featured a red light at the centre of the four cross arms. At one point the object turned on its side to reveal that it was very thin in depth when viewed side on. He rushed inside to get a torch and flashed it once at the object. The UFO appeared to react and moved slowly back over the motorway where it performed an extraordinary manoeuvre. One arm of the cross remained in a stationary position whilst the craft rotated around its axis. A short time later the object moved off into the distance and out of sight."
Case 36 (1976): "At 1.15pm, prior to starting his shift at 2.00pm, a police officer was driving to Cheltenham Police station along the A38 when he heard an external 'clanking' noise. To his left he saw a 3-pronged UFO which appeared to have a 'barbell' on the end of one of its arms. The object, described as the size of a civil airliner, moved slowly at low altitude before coming to a stop above the village of Deerhurst. The barbell appendage appeared to be transparent and, as he watched fro some two minutes in amazement, his mind suddenly conjured up the image of a humanoid figure. He flashed his car headlights at the object, at which point both it and the figure disappeared."
Case 36B (1976): "Later that year the officer and his then wife observed a large 'flying cross' in the vicinity of Orchard Road and Hesters Way, Cheltenham. It was the size of a 'jumbo jet' aircraft and hovered stationary above a church. On one of the four arms was a red light that flashed four times before the object disappeared from view. The officer is now retired from the Gloucestershire Police."
On page 123 of her book 'The Mammoth Book of UFOs' Lynn Picknett describes this UFO sighting over Gloucester in 1978:
"In the early hours of 11 January 1978, Joan Mandeville-Dell, who lived just outside Gloucester, woke up and went downstairs to get a drink of water, but when she returned she found her bedroom "was glowing pink". Looking out of the window, Mrs Mandeville-Dell saw "an enormous red object like a huge tower with 6 yellow lights, one beneath the other. Hardly able to believe her eyes she looked around for other witnesses, but – due to the early hour – no one was up and about, so she telephoned the police and immediately a young constable visited her house. She goes on: "He watched the object with me, but could not explain what it was. He suggested it might be the television mast at Much Marcle just under 20 miles away, but I could see the mast on the horizon. It appeared as two tinyred dots with no shape at all. The UFO remained in the sky for another hour or so, before disappearing from sight. Mrs Mandeville-Dell reported the sighting to the local newspaper (presumably 'The Citizen' – Andy), who carried a request for other witnesses, but no one has come forward."
All of these sightings occurred in the space of just a few years, which seems to have constituted a 'UFO flap' as far as rural Gloucestershire goes. But more recent UFO incidents have also been widely reported. A security guard working at the GCHQ spy-base in Cheltenham reported a UFO several years ago, and a ball-lightning incident was reportedly witnessed inside some commercial premises in Tewkesbury. 'The Citizen' has featured several UFO sightings above the Forest of Dean to the west of the county. We have also seen intriguing footage of a black orb filmed above Gloucester.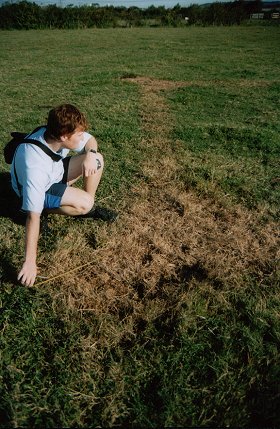 'Cosmic Conspiracies' investigate...
'Cosmic Conspiracies': Europe's Biggest UFO Website
'Zoo' loves ya, Baby?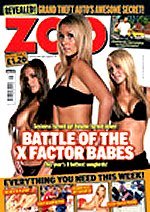 Zoo Magazine, one of the new generation of unashamedly juicy magazines for men in the UK, has poured praise over our website! Citing it as the World's Best Conspiracy Site, it generously lavishes us with a 5 star rating. Here's what it had to say: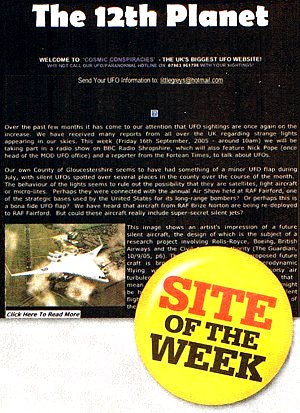 "Best of the Web: Because the net's not just for nerds and nonces"
Top 5 Conspiracy Sites:

"Calls itself the "U.K.'s Biggest UFO Website", but in fact it's much more. It's brimming with so many conspiracy theories that it even manages to contradict itself - providing enough evidence first to convince us that NASA have photographed aliens on their missions into space, and then that they've never actually been into space [eh?- Andy] or landed on the Moon. Spooky, that. Loses almost all credibility though, with its theory that America planned 9/11 [we did ??- Andy] and hid the clues in the new $20 notes."
Which just goes to show that you don't need to appear credible to be popular. In fact, in our strange media world, quite the contrary. Still, we're pretty pleased that 'Zoo' have taken a shine to our immensely popular website, which approaches 1 million hits (said in the style of Dr Evil) as I write this. It's sort of strange to see a review of our website amongst so many 'porn-lite' pictures (Wey-hey!), but such is the way of the world... Go for it, Zoo-landers, and thanks!
Written by Andy Lloyd, 12th October 2005
author of 'The Dark Star' (2005), 'Ezekiel One' (2009), 'The Followers of Horus' (2010), 'Darker Stars' (2019)