But to even be thinking about this idea gives the reader some indication of the highly anomalous nature of the Edgeworth-Kuiper Belt. Where general members of the public might consider the 'binary theory' to be right out of the ball-park, and into the fringe, the actual astronomers studying the outer solar system are having to consider such possibilities. On the whole, they may remain sceptical, but they seem deeply troubled by what they have found, and continue to find, out there.
Amateurs Glimpse Planet X
Xena was discovered using electronic scanning equipment linked by computers to the telescopes. A series of CCD images are taken by astronomers of a particular portion of the night sky, then analysed by computer. Discrepancies between the images are then checked out to see if a new object has been discovered. this is how Xena was found, but Dr Mike Brown's team haven't actually 'seen' the object 2003 UB313 themselves.
Instead, it has fallen to a small team of enthusiastic, and highly skilled amateurs, to actually spot the object through a telescope, in this case, the 2.1-meter (82-inch) Otto Struve Telescope at McDonald Observatory (14). Xena is a very difficult object to see, being only of luminosity magnitude 19. Fuzzy, indistinct objects like this, seen through a telescope, are very difficult to distinguish at all when directly looked at. Instead, by averting one's eye slightly, the object becomes apparent in the peripheral vision, which is more attuned to such visual minutae. To even be able to set the telescope up to peer at the correct portion of the sky is a technical feat in itself, let alone glimpse Xena's dull light.
There are some issues here about how astronomers 'look' for objects in the sky. Professional astronomers don't really look at the sky in the traditional way anymore, but leave such traditional sky-watching to the amateurs, making use of the University telescopes in 'public access' time. This is an important issue when considering comet-hunting and the search for Planet X proper...Comets are often first seen by amateurs, and are thus often named after fairly obscure astronomers. That's not always the case, of course, but it indicates a pattern. Professional astronomers focus on deep space objects, like galaxies and distant star clusters. They effectively see through everything in between. This is another point to consider when pondering how Planet X objects have thus far evaded detection.
The Mystery Brightens
Hubble pictures taken of Xena in December 2005 have allowed Mike Brown's team to discovery the planet's actual size. It turns out to be smaller than previously thought, being much the same size as Pluto. But this finding has created fresh controversy. The answer to this mystery is as plain as day to me, but it has got the astronomers stumped.
For Xena to be the size it is, but also as bright as it is, its surface must be extraordinarily reflective. So reflective, in fact, that it is matched only by the Saturnian moon Enceladus, which we now know is spewing out liquid water onto its surface due to the gravitational pull of Saturn (15).
For Xena to be this reflective, it must also be renewing its surface relatively frequently.
This is how the enigma was reported by "New Scientist"
"Xena's surface is brighter than Antarctica - but astronomers do not know what is resurfacing it… The fact that Xena is smaller than initially thought means it must reflect about 86% of the light that falls on it - making it about as bright as fresh snow and brighter than every other solar system body except Saturn's moon Enceladus. Spectral observations suggest its surface is covered with frozen methane, like Pluto. .
"
"When we made the size measurement, we were thoroughly shocked," Brown told New Scientist. "Such a high albedo is simply unprecedented other than the very odd Enceladus."Richard Binzel, a planetary scientist at the Massachusetts Institute of Technology in Cambridge, US, agrees. "Space is a dirty place," he says, explaining that particles from the solar wind alter the structure of ices, darkening them over time. "It's very hard to keep a surface bright and white - it requires some process to keep the surface fresh."
"
Brown suggests two possible mechanisms, working together, for the resurfacing. Xena moves in a very elongated orbit that stretches from 38 to 97 astronomical units (1 AU is the distance between the Sun and Earth). When it is near the Sun in its 560-year orbit, it may have a gaseous atmosphere. But when it moves away, it receives so little sunlight that any atmosphere would freeze onto Xena's surface, leaving it fresh and white. But a similar freeze-thaw cycle occurs on Pluto, which moves from 30 to 50 AU over about 250 years, says Binzel. And it does not have a blindingly bright surface. But a similar freeze-thaw cycle occurs on Pluto, which moves from 30 to 50 AU over about 250 years, says Binzel. And it does not have a blindingly bright surface. "So it may also be that fresh methane is leaking out of the surface," suggests Brown. "It would be more like a picture of a steam vent in Antarctica, where the steam instantly freezes onto the surface," he says.
"
But he and other astronomers had thought that Xena's interior was made of rock and ice. For gaseous methane to survive within the planet, "you have to have an energy source", says Binzel. Brown agrees: "The real question is: Why would methane leak out of the surface?" Some objects are heated when they are gravitationally stretched and compressed by massive objects nearby. But though Xena has a moon that might be a tenth its size, it is too small to gravitationally deform and heat Xena, says Brown. Similarly, the decay of radioactive isotopes could not provide the necessary heat, says Binzel: "It's a wonderful mystery.""
(15)
Yet, this small world is apparently alone in the outer solar system; no massive planet comes close to it, or it to them. Without such a gravitational tug, there is no mechanism whereby Xena could be active in any way. Even a small moon accompanying Xena could not be providing the gravitational tug sufficient to cause Xena to spew its contents out onto its surface.
It seems to me, and to anyone else who has followed my theories at all, that Xena does indeed have such an opportunity. If Xena's orbit took it close to the dark companion of the Sun, then this periodic proximity to the Dark Star would absolutely provide the right conditions for Xena to act like a comet! You see, if this little world runs a gauntlet between two stars, the Sun and its dark companion, then it could be highly active when passing close to this Dark Star.
The evidence from Hubble suggests that Xena has a remarkably bright surface. Such surfaces are associated with close proximity to massive planets. Yet, Xena is not close to such a planet. It must be meeting up with a massive planet at some stage, or its surface could not be getting renewed as observed. Such an explanation is simple and straightforward; that periodic encounters with the Sun's binary companion refashion the surface of Xena. Xena, a minor planet the size of Pluto, may be acting as a planet-sized comet as it nears the Dark Star. Such an outburst of inner material would be sufficient to refashion the minor planet's surface.
This is a remarkable possibility. Xena may in reality be a planet-sized comet! Only, it doesn't take on its comet-like appearance when it nears the Sun; it simply doesn't get close enough for the volatiles on and below its surface to burst out into space. Instead, that activity only occurs when it is far away from the Sun; much further than it is now. The comet-like appearance occurs when the minor planet Xena comes close to the Dark Star, whose own significant magnetosphere and heat output is enough to activate the frozen little world. This activity causes the re-surfacing of Xena, and subsequently its anomalously bright surface.
My bet is that certain astronomers are toying with this very idea...In which case I'd like to invite them to a hold of a copy of my book and start reading!
Indeed, Dr Mike Brown has also publicly contemplated the idea that a massive companion once existed circling the Sun. This new observation adds more evidence to suggest that this is so. However, this new data suggests that the Dark Star object MUST still be out there, awaiting discovery! Why? Because, otherwise, how can one explain Xena's refashioned surface? If the Dark Star object is no longer present beyond Pluto, then Xena should be a dull object like Pluto. That is not what has been observed.
Santa's Surprise Collision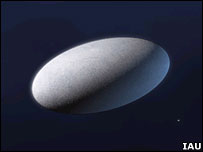 That Kuiper Belt is doing its strange stuff again. Dr Mike Brown, that leading discoverer of outer solar system planets, has found a KBO shaped like a rugby ball. It may be on its way towards a close encounter with Neptune in the future, which may divert its path into the inner solar system. One can just imagine the god Neptune booting 2003 EL61 towards the rest of his team-mates in about 2 million years time. It would be quite something to score a drop-kick from the back of the pitch! Also, quite a kick is needed by Neptune: 2003 EL61 is about the same size as Pluto. (16)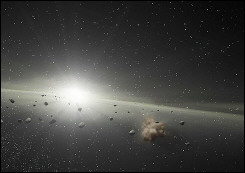 This unusual orbital behaviour is matched by the bizarre shape of this object. Speculation in the astronomical community is growing that 2003 EL61 (initially nicknamed 'Santa') was subject to a violent collision sometime in the past (17). The odds of such an event occurring in the Edgeworth-Kuiper Belt as it is known to exist today are very long indeed. The objects in the belt are simply too scattered to present any kind of risk to one another. Yet, this object appears to have taken a big knock, and may be on of a number of such objects in the belt.
"Flanked by two moonlets, 2003 EL61 measures some 1,500 kilometers (950 miles) across, tumbling over and over at a prodigious rate and pursuing a weird egg-shaped orbit inclined at nearly 30 degrees to the plane at which almost all of the Solar System's objects travel.

"[Dr Michael] Brown's team found five other rocks, measuring between 10 and 400 kilometers (six and 250 miles) across, that they believe were smashed away from 2003 EL61 in the distant past. The cluster shares the same colour and the light they reflect has a signature that suggests they are covered with surface water ice." (17)
The astronomers speculate that the collision which sheared all of these smaller objects from 'Santa' took place around the time of the Earth's formation. Interesting, don't you think? It has to be said that the likelihood of that having happened is not very high...unless the Edgeworth-Kuiper Belt contained a great many more objects 4+ billion years ago. Add in a Dark Star to the equation and the whole scenario then makes much more sense...
Eris's Surface is Changing, But Why?
We've already seen how reflective the surface of Eris (the KBO formally known as Xena) is. Scientists have been able to study the surface, which is largely made up of methane ice, and some trace nitrogen ice. They have discovered that it has changed, in just two years (18).
When Eris is at the closest point of its elongated 560 year orbit, the ices exposed to the sun are probably able to vaporise to create a small, temporary atmosphere. This would then condense out onto the dark side of the dwarf planet, which rotates every 26 hours. This would then change the surface of the planet over time.
However, the changes to the surface - which have been noted through complex studied carried out by different astrophysics teams - are taking place when Eris is at its most distant point from the Sun. Theoretically, it should be too cold for the ices to evaporate off at the moment, even in the sun-exposed areas. So how is the change occurring? This is yet another mystery posed by Eris.
Planetary scientists have speculated that volcanic activity may have discharged material out onto the surface of Eris. But the dwarf planet seem rather small, and cold to have allowed this kind of activity, known as 'cryovulcanism'. Perhaps Eris is warmer than previously thought. Astronomers have been shocked before by some of the unexpected activity in the solar system involving liquid water...Enceladus, the water-spouting moon of Saturn, is a case in point. In my opinion the Kuiper Belt and beyond guard a wealth of secrets, the clues to which are only just starting to come to light.
Written by Andy Lloyd, author of 'The Dark Star' (2005), 'Ezekiel One' (2009), 'The Followers of Horus' (2010) and 'Darker Stars' (2018)
© 30th July -4th August 2005, 16/9/05, 14/12/05, 6/3/06, 16-18/4/06, 20/3/07, 22/7/08, & 11/11/08
References:
1) David Whitehouse BBC News (30/7/05) http://news.bbc.co.uk/1/hi/sci/tech/4730061.stm
2) Robin McKie "The Little Rock Causing a Galactic Storm" The Observer 31st July 2005
3) NASA: New Tenth Planet Discovered (29/7/05): http://science.nasa.gov/headlines/y2005/29jul_planetx.htm?list768435
4) Michael Brown, Caltech "Astronomers at Palomar Observatory Discover a 10th Planet Beyond Pluto"
http://www.gps.caltech.edu/%7Embrown/planetlila/index.html With thanks to Mattia Galiazzo
5) Caltech Astronomy: Images of the Samuel Oschin Telescope http://www.astro.caltech.edu/palomarnew/sotimages.html
6) David Tytell "Astronomers Discover "Tenth Planet"" Sky and Telescope (29/7/05) http://skyandtelescope.com/news/article_1560_1.asp

7) R. Britt "Large New World Discovered Beyond Neptune" 29/7/05 http://www.space.com/scienceastronomy/050729_large_object.html with thanks to David Pearson
8) For more information on Barry Warmkessel's hunt for Vulcan see http://www.barry.warmkessel.com
9) D. Perlman "Astronomers discover 2 more oddball objects" San Francisco Chronicle, 9th September 2005, http://www.sfgate.com/cgi-bin/article.cgi?file=/c/a/2005/09/09/MNGDVEKQ841.DTL with thanks to Peter Gersten
10) Caltech News Release "Work Continues on the Solar System's Three Recently Discovered Objects" 8th September 2005, http://pr.caltech.edu/media/Press_Releases/PR12734.html
11) L. Moulton Howe " "Planet X" and the Kuiper Belt's Oddballs, "Santa" and "Easterbunny" "Interview with Dr Mike Brown http://earthfiles.com/news/news.cfm?ID=980&category=Science With thanks to David Pearson
12) CFEPS Press Release 13th December 2005 http://www.cfeps.astrosci.ca/4b7/index.html Thanks to David Pearson
13) Maggie McKee "Strange new object found at edge of Solar System" New Scientist 13th December 2005
http://www.newscientist.com/article.ns?id=dn8455 Thanks to David Pearson and Shad Bolling
14) "Amateur astronomers make first sighting of '10th planet' through eyepiece of Mcdonald Observatory telescope" 4th March 2006
http://www.oaoa.com/news/nw030406c.htm With thanks to David Pearson
15) New Scientist "Tenth planet as bright as fresh snow" 11th April 2006 http://www.newscientistspace.com/article/dn8985-tenth-planet-as-bright-as-fresh-snow.html With thanks to David Pearson
16) "Dwarf planet 'becoming a comet': An unusual dwarf planet discovered in the outer Solar System could be en route to becoming the brightest comet ever known. " http://news.bbc.co.uk/1/hi/sci/tech/6268799.stm 17th January 2007, with thanks to Paul Wood
17) "Kuiper-belt Object Was Broken up by Massive Impact 4.5 Billion Years Ago, Study Shows" http://physorg.com/news93105023.html 14th March 2007 With thanks to David Pearson
18) Rachel Courtland, New Scientist "Mysterious changes seen on distant dwarf planet" 10th Nov 2008 http://www.newscientist.com/article/dn16009-mysterious-changes-seen-on-distant-dwarf-planet.html With thanks to David Pearson