Anomalies on Google Sky and Earth
Puzzling Microsoft Worldwide Telescope Anomaly
A Dark Star-related puzzle: I've been sent a short video clip by a correspondent named David Gittins. He has discovered an unusual anomaly on the Microsoft Worldwide Telescope program. It appears to show a glowing red planet - a possible sub-brown dwarf, or something else entirely? Apologies for the quality of the video, but it does serve to provide the salient data and a good look at the anomaly.

Some people comment that it might be a supernova, which it may well be, but it's strange then that it hasn't been labelled. It may be an anomalous artifact left over from when the images was taken. I find it puzzling. There's already a healthy debate going on on YouTube. Any further suggestions welcome:


http://www.youtube.com/watch?v=bagwwr4P8AA
I've already been sent some interesting links of similar looking celestial phenomena by Mattia:

http://www.iaa.csic.es/xpn/pn_formation.html

http://www.astronet.ru/db/varstars/msg/1161870

http://www.astronomycast.com/astronomy/episode-19-comets-our-icy-friends-from-the-outer-solar-system/
The object is in Gemini, at R.A 06h 08m, Dec. +22˚47'. Compare with the coordinates for the open star cluster M35 at R.A 06h 09m Dec.+24˚20'. They're certainly close, but the star cluster is not a red object like the one seen on the Microsoft Worldwide Telescope program.
http://seds.org/messier/m/m035.html
Here are IRAS infra-red images of the location described in the video. The first is a wide view of the area, and the second if a close-up of the left-hand part of the image. You can click on them to go the NASA pages for further data:
Further research by Mattia through the astronomy databases has brought up the following image taken in the vicinity of this anomaly, but not at the exact coordinates. He found it at sky-map.org and it originally comes from the U.S. Naval Observatory (catalogue reference USNO-A2.0=1125-03465140). It does not appear on inspection of DSS (visual) and IRAS infra-red images.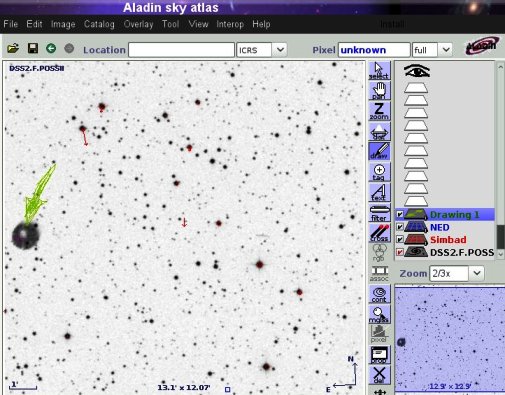 The coordinates of the object are Ra 06h 08' 53.162" Dec. +22 46 50.77 (Right ascension (FK5) Equinox=J2000. (computed by VizieR, not part of the original data)). The magnitudes of the object are Magnitude (blue)=16.1 Magnitude (red)=14.9.
Here are some technical notes about the U.S. Naval Observatory images:
(Note: USNO-A2.0 contains 526,280,881 sources, and is based on a re-reduction of the Precision Measuring Machine (PMM) scans from POSS-I O and E plates (>=-18°) and SRC-J and ESO-R plates (<=-20°). USNO-A2.0 was created by Dave Monet (dgm(at)nofs.navy.mil) and collaborators at Flagstaff Station, U.S. Naval Observatory.
The major difference between USNO-A2.0 and its previous version USNO-A1.0 is that A1.0 used the Guide Star Catalog as its reference frame whereas A2.0 uses the ICRF as realized by the USNO ACT catalog (Urban et al. 1997). The VizieR search engine uses an on-line compressed version (3.6Gbytes) which was generated at CDS.)

So, getting beyond the technical material, let's consider the possibilities. An anomalous object has been spotted on the Microsoft Worldwide Telescope image database. However, it is not seen on other astronomical databases commonly available. Close to this anomaly, Mattia has found a similar looking object, also not described in the literature, on the U.S. Naval Observatory database. If it is the same, then it has moved between the times that each image was taken.
The fact that it has moved is quite interesting in itself. It implies that it is a solar system object, rather than a deep space object. Mattia has done a quick back-of-an-envelope calculation and thinks that, if they're the same object, it would be located beyond the Kuiper Belt. Stay tuned...
Andy Lloyd, 6th August 2010
Also available in Italian:
Microsoft WorldWide Telescope sconcertante anomalia

Virgo Blackout on Google Sky & Wikisky
Here's a little puzzle for astronomy buffs, sent to me by Tony. He spotted that a part of the Virgo constellation was blanked out on Google Sky and also on Wikisky. Here's the image:
Tony writes:
"I HAVE BEEN FOLLOWING WITH INTEREST YOUR WEBSITE DARK STAR, AND DOING AS MUCH RESEARCH AS I CAN ON THE INTERNET, ONE OF THE MOST INTERESTING THINGS I HAVE COME ACROSS (YOU TUBE AND OTHER SITES) IS THESE 2 PICTURES IN WIKISKY AND GOOGLE SKY (SEE ATTACHED IMAGES). IF YOU SAVE THE WIKISKY IMAGE, AND OPEN IT IN PHOTOSHOP OR SIMILAR, YOU CAN LIGHTEN IT ENOUGH TO SEE THROUGH THE BLACKOUT (SEE ADJUSTED IMAGE ATTACHED). IN IT YOU CAN SEE A DARKER DISK IS THIS YOUR BROWN DWARF? .

Q : WHY CONCEAL THIS PART OF A INFRA RED IMAGE AND NOT A NORMAL PHOTO IMAGE ?
AS FAR AS I CAN FIND OUT WITH MY LIMITED ASTRONOMICAL KNOWLEDGE IT IS IN THE EXPECTED ARRIVAL ZONE NOT FAR FROM OPHIUCHUS ,IT SEEMS STRANGE THAT BOTH IMAGES ARE FROM IRAS AND DIFFERENT LEVELS OF CONCEALMENT HAVE BEEN USED,( IT SEEMS TO BE THE ONLY PART OF SKY WHERE THIS HAS HAPPENED) GOOGLE'S IMAGE IS STILL SHOWING A VERY OBVIOUS OVERSPILL AROUND THE BLACKOUT. THERE SEEMS TO BE A HOT SPOT IN THE SAME PLACE WHEN A WMAP MICROWAVE IMAGE IS OVERLAYED ON GOOGLE SKY ?"

I'm not entirely sure why this part of Virgo is blanked out, either. It looks like a very bright object just to the right of the blacked-out area is being partially blocked, perhaps because it is too bright (there is a lens flare from it too). This leads me to suspect that this is one of the planets, as it is lying just slightly off the ecliptic. And what is the 'hotspot' Tony is talking about? One possibility is that the bright object which has been partially blocked out is Jupiter in Virgo, and that the 'hotspot' is one of its Galilean moons. This would explain why the Google Sky and Wikisky people took out a tract of the sky, because there are multiple objects associated with Jupiter that need removing from the Virgo constellation. But without knowing exactly when this image was taken, I can't verify my hypothesis.
If anyone can solve this dilemma please could you send me a quick e-mail and I'll post the ideas here.
11/11/11. Paul has sent me a link to an internet conspiracy forum where an anonymous contributor had posted some composite images purporting to be the missing piece of the Google Sky jigsaw. I can't vouch for this content, but it's interesting to consider:
http://thechaniproject.com/forum/index.php?topic=297.0;topicseen
Google Earth

I was sent some Google Earth images containing what appear to be anomalous shapes in the sea. The reader who sent them through had come across the image quite by random when perusing the remarkable Google Earth system, and was at a loss to explain what he was looking at. He asked me for my opinion, and I must admit to being similarly perplexed. These objects, if they are indeed objects, lie in a large lake in north Turkmenistan:
They take the form of white streaks in the water, and are of very considerable size:
Here's a close up of one of these streaks. Note the apparent structure and detailed form:
It would be interesting to hear from anyone who has an idea as to what these shapes are. You can e-mail me at my usual address andy-lloyd@hotmail.com
Nick Lambert suggests that they may be sandbars in the lake; they certainly do look like a natural formation, albeit somewhat misplaced. Kim Lambert (no relation!) has also written, with the following useful comments:
"I was checking out the "objects" in the lake in Turkmenistan and noticed something interesting. If you turn on the "roads" layer in Google Earth it shows an orange "road" line going right across those formations, although the NE end stops short of the actual coastline. In fact, there are several different "road" lines cutting across/into the lake, although that area isn't in high res and I can't make out anything that would indicate a bridge.
"Also, if you turn on the "Geographical Features" layer there appears to be a good bit of underwater topography in the same area and going in the same direction as the formations, suggesting that they are just natural peaks. Or they could be man-made foundations to support a bridge, but that would be a massive (and expensive) undertaking for such a remote area in a relatively poor country like Turkmenistan.
"As much as I'd like to think the features are extra-ordinary, I suspect they are only natural geologic formations."
She finds the idea that these might be sandbars intriguing, too, but points out that the colour seems more rock-like. Insofar as the colours used by GoogleEarth are all that accurate, that is.
---
Venus Transit 'Harmonics' on Google Sky
Christa Hoffmann sent me this email following the Venus Transit of June 2012:
"Hi Andy, My name is Christa & I live in South Africa. Can you take the time to have a look at this strange anomaly on Google Sky?? It looks like some kind of Binary code or Harmonics - or is it just a satellite glitch? Also what is this - it is like "above" my town - I live in Limpopo South Africa.

Let me know if you do see it at your angle and on your Google Sky map. The co-ordinates of the strange stripes = 4h46m29.96s 22°44'13.97" also - if you zoom in to the Sun today 6 June 2012 and to the side to Venus and beyond - Venus actually is in front of the stripes. The other co-ordinates = 13h50m35.31s-23°35'23.85" and 13h52m42.40s-23°02'02.85:
I've not come across anything like this. It's evident that the Sun and Venus are both superimposed images, placed onto the Google Sky background, but I'm not sure why these sets of parallel blue lines are also present. I can only assume they're a digital artefact from the rendering of these images, created to indicate the Venus Transit. If anyone has a better technical explanation please let me know and I'll post the explanation here.
Written by Andy Lloyd, author of 'The Dark Star' (2005), 'Ezekiel One' (2009), 'The Followers of Horus' (2010) and 'Darker Stars' (2018)
If you have any mysteries on Google Earth/Sky or Wikisky you want to share, please send me an e-mail.