From the Kolbrin MS (1) we read that the Khumry Tribe, Sons of Fire, build a port city near the bay of a "Great Rock." From my study of European geography, there is only one Great Rock guarding a large bay—The Rock of Gibraltar. Apparently it was foggy a lot during their stay so the Sons of Fire named this place the "Land of Mists." See below:
"SOF:9:1 The Sons of Fire came to the Land of Mists, they and their households and their cattle, and all the tools of craftsmen. With them came others, men of Egypt and men of Javen. Also strangers who were not as valiant as are the Sons of Fire. Many among them were sickly and distressed in their hearts.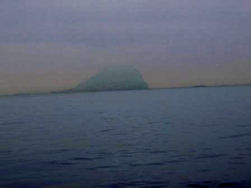 SOF:9:2 They took land among the barbarians [Celtiberians?] and built a city and a port at the place called Sadel...and cut roads about it into the forests. But they were kept in by the barbarians, and strangers in a strange land. The city was a place for buying and selling and men came and went. Ships came bearing cloth and pottery, instruments and weapons of war and all manner of things. The ships went away bearing things from the barbarians who dug in the soil. The place of the city was good, for it was fertile and well watered, and the bay was GUARDED BY A GREAT ROCK.
SOF:7:87 Hoskiah [the Khumry leader] governed many years in the Land of Mists and made laws and died in his old age...
SOF:11:9 When Hoskiah was past three score years of age he sent to Pelasi for the remnants of the Children of Light. None of them came, for they said it was not meet for them to journey to the edge of the Earth to dwell among barbarians. They said, "We will retain the light here, for out there it will surely be extinguished"
SOF:11:10 Later, four ships did come, but they carried the standards of Ashratem. With them came Enos Husadim of the SONS OF DAN [tribe], a learned man from the slopes of the mountain which rests in darkness and reaches up to the limits of light. He knew Hoskiah when a child. There came also one named Zodak, who had dwelt in Twalus, and he brought with him all the books of the Children of Light. With Zodak came many men who knew the mysteries of metal, and they brought with them the light of Amos. When they came, the spirit of Hoskiah had already joined his fathers.
SOF:11:11 Before his spirit took wings, Hoskiah wrote this for the guidance of his people: "My trusted ones, the time draws near for my departure on the Great Voyage and I cannot complete the tasks before my hands. In one thing, I have been neglectful, for though the Chief Guardian of the Records, the time I devoted to their care was little enough. Thank the priests for their care, I have recorded many statutes needful for this place. Their like was known before, but were not set down for men to see. Now they are made known to the ears of every man. Your welfare and safety has ever been my first concern, but I am a man of battle and a commander of men, not a scribe and recorder".
SOF:11:12 "My trusted ones, we are few and the barbarians about us are many. For a while, they are well kept in hand, for Cladwigen wishes us well, and his sons are our friends. We have toiled to raise a city and men come and go freely among us. Many ships come in their season. Yet stout warriors who are not friendly press down from the Northeast and therefore, vigilance can never be relaxed. We cannot sleep peacefully side by side with the barbarians and must ever be alert. Danger hangs over us like a boulder upon the mountainside, and our safety is like a playstone in the hands of a child. The barbarians do not forget that we are strangers in this land and only while we serve a purpose are we welcome".
SOF:11:13 "Yet, my trusted ones, with all the dangers around us it is the dangers threatening within that I fear the most. We are few indeed against the numbers of barbarians, yet we weaken ourselves with foolish strife one with the other and people with people. Our city is a place for buying and selling, a place where things are exchanged. Outside it is a marketplace where men come and go as they please and they buy and sell without hindrance. We have laws for the city and laws for the marketplace. Amongst us are many craftsmen who exchange the things they make with the barbarians who bring things to eat. We have a good life here, but it is not a life I fully understand. We came from afar to set up a city dedicated to the light, to hold the light. Yet, is this such a city? Do men seek the light and worship it, or do they seek luxury and worship wealth and possessions?"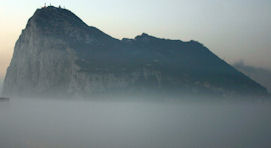 SOF:11:15 "My trusted ones, my eyes may be clouded to the things before them, but I am not blind to your ways. Already our women cast their eyes towards the barbarians, and when women seek men outside their own kind it is a sign of a people's degeneracy. I read what is written and I fear for the future."
SOF:14:2 In the days when the city was being built, the barbarians came and went freely among us Many came but stood off and watched from afar, for they did not understand our ways. Among those who came was Cluth, the son of Cladda and brother of Cladwigen, and he talked with Amarahiti in the days when she was still in her father's household. In those days she sat at the Place of the Talking Stone [Stone of Destiny?], which still stands in its place, for she was among those who sought to know the speech of the barbarians.
SOF:11:16 "Many who are with us in the light will join us and then we shall be stronger in arms and strengthened in belief. Yet our destiny lies among the barbarians. They are fine, upright men endowed with courage, do not belittle their ways, but bring them into the light."
SOF:11:17 "Our city was not founded as a marketplace, a place for exchanging only the things of Earth. Neither did we come here as conquerors, but as men seeking refuge...."
References
(1) Marshall Masters "The Kolbrin Bible 21st Century Master Edition" Your Own World, Inc., 2006

The Kolbrin Bible
(2) 'Glastonbury Abbey and the Kolbrin Bible' by Glenn Kimball
bibliotecapleyades.net article
(3) kingarthurconspiracy.com (website no longer avilable online) with thanks to Alan Wilson and Baram Blackett.
This article continues in Part 2:
Nibiru and 'The Lost Tribes of Israel' Connection - Part 2
Written by Greg Jenner, 2011, author of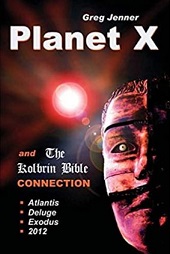 Planet X and the Kolbrin Bible Connection