Cheltenham Art
Artists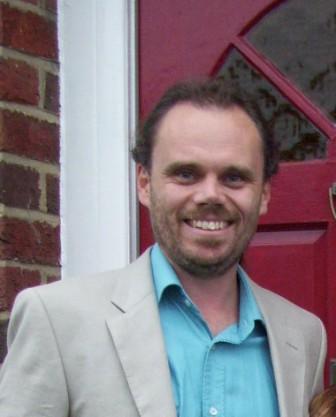 Andy Lloyd's Landscapes
This is the traditional territory for the amateur artist, and competing in this field is really, really difficult. Part of the problem for me is the medium I use; acrylic. I find watercolour difficult, and oils messy.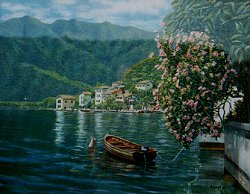 Acrylic paint dries quickly, which is useful when you've got two young boys running around.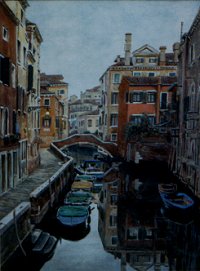 I also like the effects you can achieve, and have developed this 'airbrush'-like style using acrylic, which is really unusual. But the colours don't seem to lend themselves to landscapes as well as watercolour. Don't know why.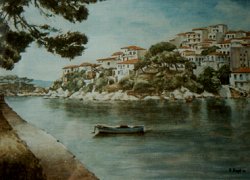 So I tend to stick with seascapes and clear lakes. Oh, and Venice of course, which is mandatory amateur artist fayre.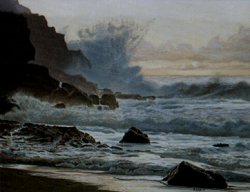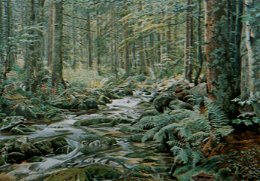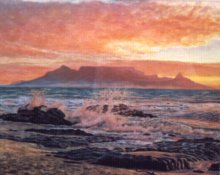 I've done stacks and stacks of landscape paintings. Sometimes it works, sometimes it doesn't. But, for me, it just doesn't seem to sell as well. I can only assume this is because of the stiff competition out there. There are some really great landscape painters in Gloucestershire.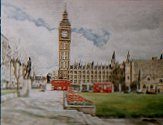 You can tell I'm right handed with this picture of the Houses of Parliament: Big Ben leans to the right (Just like real life then!)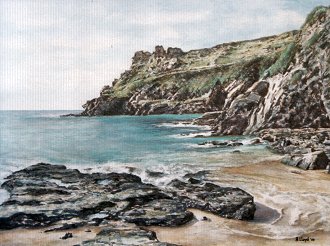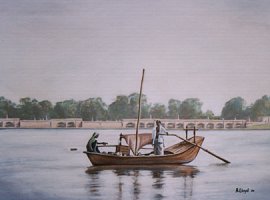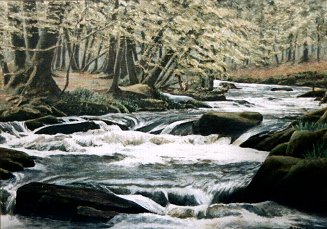 These are three landscapes painted as commissions for the same family during 2004; a stretch of Cornish coastline, a British-built bridge at Sukkur in Pakistan and a woodland stream, a scene I have enjoyed painting before.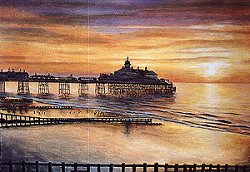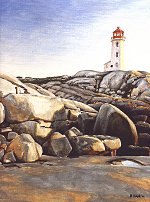 Here are a couple of seaside sunsets; the first of the old Pier at Brighton, and a lighthouse at Peggy's Cove, Nova Scotia, Canada.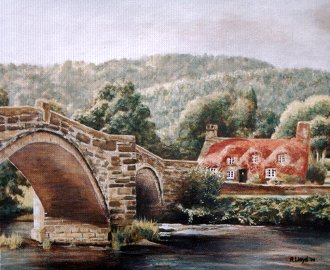 I love this painting of a cottage and bridge in North Wales, but have never been able to sell it. It takes pride of place above my computer desk, and another copy of the same painting hangs in my friend's farmhouse.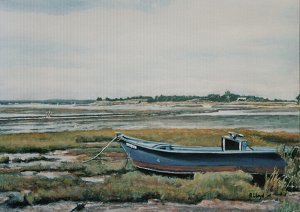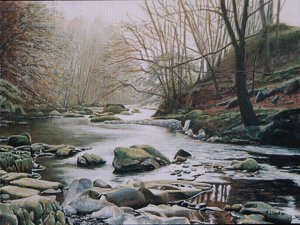 The first of these two paintings was a commission taken from a holiday photograph from France. The second is of the River Esk, near Dalegarth in the Lake District.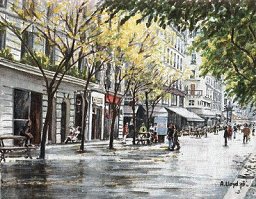 This rain-swept Parisian street looks beautiful in the autumnal sunshine. This painting is a little less accurate than I normally aim for because the impression of light really worked at this stage of the painting. Sometimes continuing to work on the picture only detracts from that effect. One even runs the risk of ruining it completely. One of the things about this painting is how much it looks like The Promenade in Cheltenham, even though it's actually a street scene in Paris!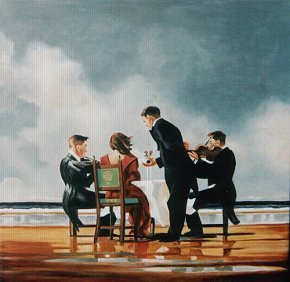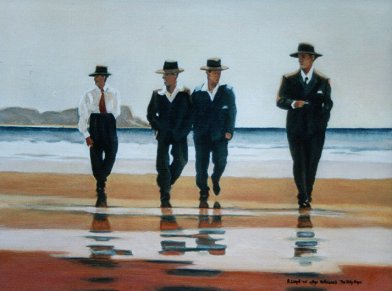 These paintings aren't strictly landscapes. They're copies of paintings by Jack Vettriano, the contemporary Scottish painter. The first is based upon a composition entitled 'Elegy to the Dead Admiral', whilst the second is from 'The Billy Boys'. I painted these as commissions for friends (I don't normally copy the work of other artists, unless the person commissioning the painting particularly asks for it).
Some of Vettriano's reds have gone distinctly siena brown in my version, but apart from that the paintings turned out fairly well. I think they've captured the same feeling for light and atmosphere as the originals.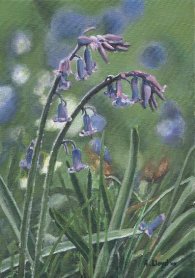 Finally, some bluebells. And why not?
Written by Andy Lloyd
author of 'The Dark Star' (2005), 'Ezekiel One' (2009), 'The Followers of Horus' (2010) and 'Darker Stars' (2019)
Published by Timeless Voyager Press